S&P: All That Bond Market Illiquidity is Bad for Bond Funds, But Not Banks
What would a dry spell in the bond market mean for the financial sector?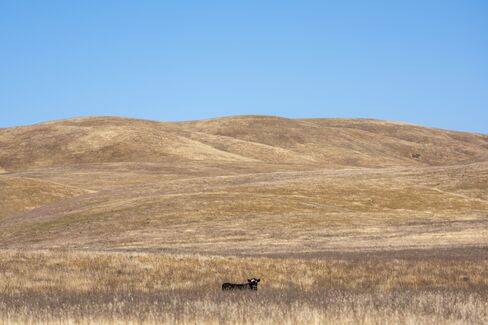 Standard & Poor's, the credit rater, has just published new research on the changing structure of the corporate bond market and its effect on on a wide variety of financial entities.
Bankers, regulators and investors have long been complaining that the ability to buy and sell in the bond market without impacting the prices of securities has deteriorated in the aftermath of the financial crisis. Some blame new regulation that has made it more expensive or more difficult for banks to hold bonds on their balance sheets for this decline in so-called "liquidity." Others blame years of zero interest rates that have essentially herded investors into the same (long-only) bond positions. Many blame a combination of the two and this seems to be the stance taken by S&P analysts in their new report.
The benefit of banks no longer warehousing as much bond risk, is that S&P doesn't think they'll be particularly vulnerable in the event of a big bond sell-off. The downside is that all those funds and vehicles that large and small investors have been using to snap up debt -- such as exchange-traded funds or mutual funds -- are more susceptible to such an event since they promise 'instant' liquidity on what may prove to be illiquid underlying assets.
You can see the rating agency's thinking in the below diagram.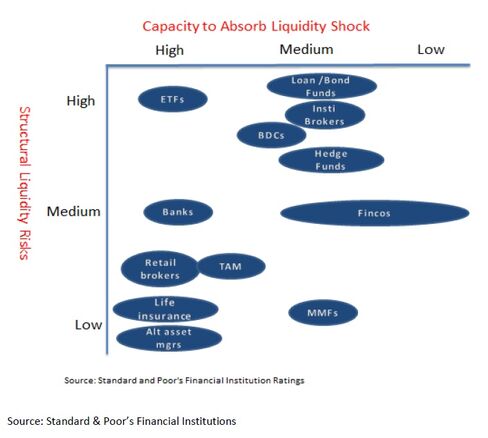 How did we get here, you ask?
S&P has some charts that lay the situation out quite clearly. For a start all those low interest rates and yield-hungry investors have encouraged companies to sell a lot of bonds. Issuance of corporate bonds in the primary market has exploded.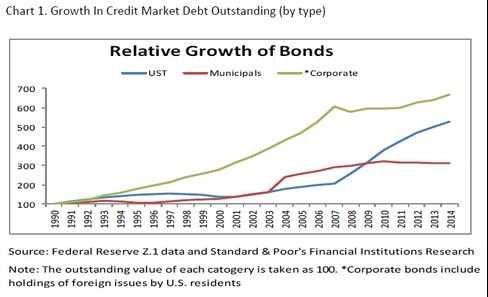 Investors have been all too eager to snap up all that new debt thanks to the higher returns on offer from buying the bonds. S&P says that for some of the biggest asset managers it rates, fixed-income now accounts for about a third of total assets under management, though the figure can vary a lot between funds.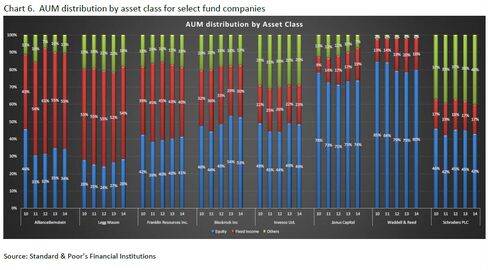 This means the holders of corporate bonds has evolved over the past few years. By the end of the first quarter of this year, mutual funds held 24 percent of the debt outstanding after snapping up almost $1.5 trillion since the start of 2009, insurers held 23 percent and international buyers had 25 percent.
Banks hold 7 percent, according to S&P. The share of brokers and dealers --a subsection of the banking group and traditionally an important source of liquidity for the market -- has slumped from a high of 4.2 percent back in 2007 to 0.9 percent currently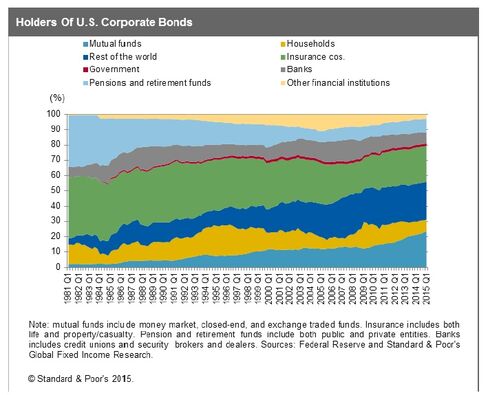 Bond risk, in the event that it does materialize, clearly lies elsewhere in the financial system. And it's worth noting here that S&P doesn't necessarily say that the much feared "liquidity event" -- where investors all suddenly head for the exits en masse and cause a big slide in bond prices-- will necessarily happen.
Here's S&P's conclusion:
In our view, rising primary issuance, changes in the fixed-income market structure and banking regulations have resulted in a structural decline in market liquidity. In the event of a shock to liquidity in corporate bond markets, we would expect a nuanced and differentiated ratings impact on financial institutions. The ratings on bond and loan funds, institutional brokers, and business development companies would likely be the most vulnerable to a severe liquidity shock. Nevertheless, it is far from clear that market illiquidity will necessarily create systemic risk. We believe the presence of investors with long liabilities and committed capital, who are looking for opportunities to invest should contribute to stabilize the market in such a scenario.
Before it's here, it's on the Bloomberg Terminal.
LEARN MORE