Rousseff's Approval Rating Falls as Brazil's Economy Slows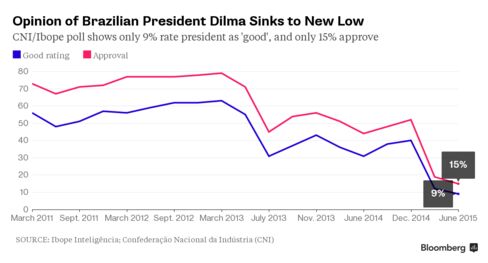 President Dilma Rousseff's approval rating fell to the lowest of any Brazilian president since the 1990s, as a shrinking economy and a growing corruption scandal dominated headlines in the first semester of her second term.
Approval of her administration was 15 percent in the June 18-21 survey compared with 19 percent in March, according to polling firm Ibope. The survey, contracted by the National Confederation of Industry, polled 2,002 people and has a margin of error of two percentage points.
Rousseff is struggling to contain inflation and attract investment as Brazil faces what analysts in central bank surveys forecast will be the worst recession in 25 years. An investigation of bribery and kickback allegations involving state oil company Petroleo Brasileiro SA threatens to drag her Workers' Party deeper into Brazil's largest corruption scandal.
"It's the sum of all these things: the fiscal adjustment, the corruption allegations, her own lack of charisma," Joao Paulo Peixoto, a political science professor at the University of Brasilia said by phone. "All this creates a climate that's very unfavorable for her."
Unpopular Fiscal Reforms
After narrowly winning re-election in October, Rousseff and her new economic team have slashed government spending and pushed a reform agenda through Congress to address last year's record budget deficit. Even while the central bank has raised interest rates at six straight meetings to 13.75 percent, inflation is expected to accelerate to 9 percent this year.
Those policies, while necessary, are extremely unpopular, Peixoto said, citing Wednesday's Ibope results. Ninety percent of those surveyed disapprove of Brazil's monetary policy, and 86 percent disapprove of inflation fighting efforts.
"The government, the executive won't give in to popular opinion," Peixoto said, speaking about fiscal reforms. "Congress on the other hand, has its own agenda."
Further Rebellion
While most of the fiscal reforms sought by Rousseff's economic team have won congressional approval, lawmakers have delayed or amended bills to trim pension costs and end some tax breaks. Rousseff's faltering popularity could encourage further rebellion, Peixoto said.
"There's criticism of the reforms and criticism against her Workers' Party," Peixoto said. "She suffers from all of these."
The real, which has weakened 18 percent this year, declined 0.8 percent to 3.1269 per U.S. dollar at 12:58 p.m. local time.
A separate poll conducted by Datafolha on June 17-18 put Rousseff's approval rating at 10 percent, the lowest of any leader since the impeachment of Fernando Collor de Mello in 1992.
For more, read this QuickTake: Brazil's Highs and Lows
Before it's here, it's on the Bloomberg Terminal.
LEARN MORE