Paddy Power Pays Out on Greece Voting 'Yes' Four Days Early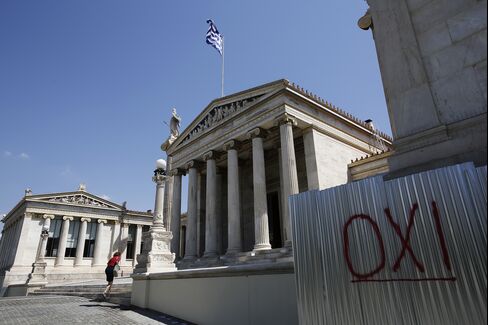 Paddy Power Plc "paid out five figures" in winnings to gamblers who bet that Greece will back a July 5 austerity referendum that may preserve the nation's future as part of the euro region.
"Despite some polls suggesting it's neck and neck, over the last few days we've seen enough to be convinced," Paddy Power, Ireland's largest bookmaker, said in an e-mail in Dublin on Wednesday. "In a race with two potential outcomes, we've seen over 85 percent of money go one way and that's massive."
Gambling companies routinely pay out early on sporting events when they regard the result as a foregone conclusion, in part because it draws publicity and in part because gamblers often recycle winnings into other wagers.
Occasionally, the gambit goes wrong. In 2003, Paddy Power paid out early on Arsenal winning English soccer's Premier League title and Manchester United eventually became champions.
Paddy Power had offered odds of 2/7 that Greeks would pass the referendum. The company said it estimates there's an 80 percent chance of the 'yes' vote prevailing.
Stephen Schwarzman, founder of private-equity firm Blackstone Group LP, said today he also expects Greek voters to support a referendum.
"I'd be surprised if it wasn't a strong 'yes' vote," said Schwarzman.
Schwarzman was speaking just as it emerged that Greek Prime Minister Alexis Tsipras has offered to accept proposals from the nation's creditors to end a standoff, subject to certain conditions.
The Irish bookmaker offered odds of 1/2 on the referendum going ahead, meaning a 2 euro bet wins 1 euro. The odds on Greece shelving the vote were 6/4.
"This referendum, since technically speaking the question is not really correct, it's more about what political signal the Greek people are sending to Europe," Valdis Dombrovskis, European Commission vice president for euro policy, told reporters in Brussels today.
Before it's here, it's on the Bloomberg Terminal.
LEARN MORE