Do more than half of British households get more back from the government in benefits than they paid in tax?
That statistic was widely reported on Tuesday, based on a report by the Centre For Policy Studies. It produced a bulletin announcing this news, adding that it was evidence of "the scale of the challenge which remains to reduce welfare dependency." It set out its key finding: "In 2013/14, 51.5 percent of households received more from the state in cash benefits and benefits in-kind than they paid in taxes."
The report is based on data from the Office For National Statistics. Here you can see how taxes and benefits stack up across the different income deciles: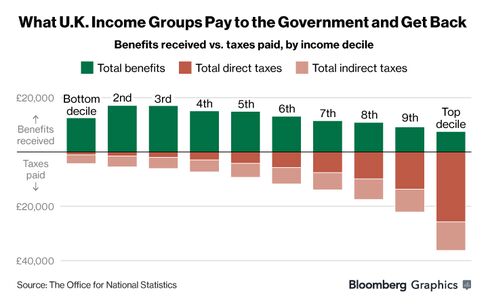 But the ONS did what the CPS didn't: it explained what it meant by "benefits-in-kind." These are the government services that people receive which can be quantified: free state education, free healthcare, subsidies for trains and buses.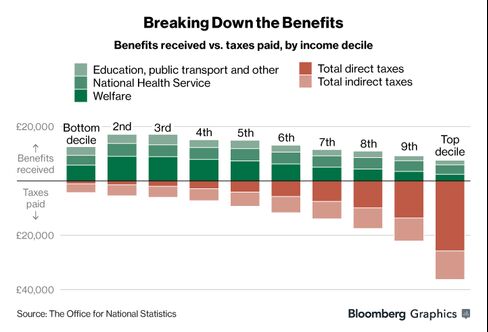 If you don't think that things like the National Heath Service and state schools are what you would usually include in "benefits" (a word that's interchangeable with "welfare" in Britain) the breakdown looks like this: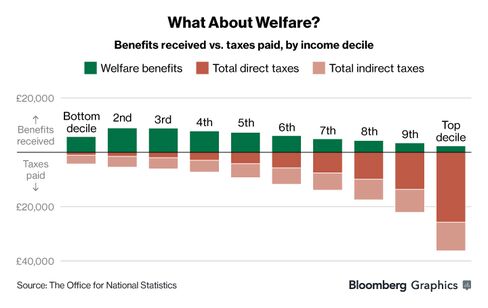 And this is before you take out State Pension payments, which make up just under a half of the welfare budget, but which many people would dispute count as "welfare".
What that chart shows is that the poorest 30 percent of households receive significantly more in cash benefits than they pay in tax. The next 10 percent receive on average £596 pounds a year more in cash benefits than they pay in tax, and the top 60 percent all pay more in tax than they get back in cash benefits.
Adam Memon, Head of Economic Research at the CPS, and co-author of the report, defended not explaining what was meant by "benefits-in-kind" and argued that his point still stood.
"I can understand that other people may not have seen that terminology, but it's the ONS terminology," he said in an interview. "The paper is about dependency on the state. Dependency does include health, education, and so on."
Before it's here, it's on the Bloomberg Terminal.
LEARN MORE