London Heathrow Best Option for Runway, Davies Report Says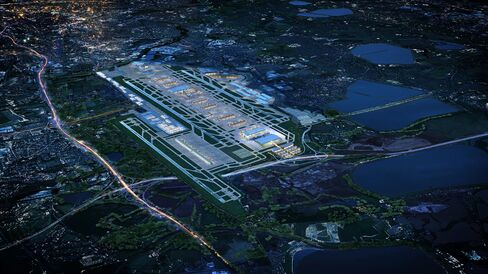 London's Heathrow airport was identified in a state-backed study as the best option for a new runway serving the world's largest aviation market, handing a final decision on the controversial expansion to Prime Minister David Cameron.
A third landing strip at Heathrow "presents the strongest case and offers the greatest strategic and economic benefits," the Airports Commission said Wednesday. Alternative plans to extend a Heathrow runway or add a second at Gatwick, south of London, are "credible" but have weaknesses, the report said.
The 18 billion-pound ($28 billion) Heathrow project would lift passenger numbers above 135 million by 2050, creating 70,000 jobs and adding 40 destinations, the Commission said. A decision on enlarging what is already Europe's busiest hub must come from Cameron, whose Conservative Party is split on the issue, with London Mayor Boris Johnson among senior members who say increased noise and pollution would affect too many people.
"The government will need to review our analysis carefully," while at the same time moving "as quickly as it can to a decision," Commission Chairman Howard Davies said. "Heathrow is best-placed to provide the type of capacity which is most urgently required." The plan would take about 10 years to deliver and satisfy the needs of airlines beyond 2040.
---
Airports Commission: Heathrow Verdict
Runway would boost GDP by £147 billion over 60 years
Over 70,000 new jobs by 2050
'Noise envelope' to limit airport noise
Ban on night flights from 11.30pm to 6.00am
Legal ban on fourth runway
Legal commitment on air quality
Training and apprenticeships for local people
Source: Airports Commission
---
'Vital Question'
Transport Secretary Patrick McLoughlin said in a statement that his department will consider the Commission's advice "in detail," adding that Britain faces "a once in a generation opportunity to answer a vital question." Cameron said in Parliament that a decision will be made by the year's end.
The Confederation of British Industry said the government should immediately back Davies "and get diggers in the ground at Heathrow swiftly by 2020." The Institute of Directors also approved the study, as did the Board of Airline Representatives in the U.K., representing 70 carriers, and pilot union BALPA.
British Airways parent IAG SA, Heathrow's biggest user, favors expansion while questioning Davies's funding proposals.
Mayor Johnson, a contender to replace Cameron as Tory leader, remained defiant, tweeting that the recommendation in favor of Heathrow was "disappointing" and that a third runway will in any case "never be built," with the Commission's findings being destined for "vertical filing."
Dubai Rivalry
The debate over Heathrow's future comes after the U.K. airport last year lost its status as the world's leading hub for international passengers, with Dubai toppling it from a position it had held for decades. Airports in European cities such as Paris and Frankfurt also have more runways.
Heathrow, home to the BA arm of International Consolidated Airlines Group SA, has been operating close to the limits of its two strips for years, boosting passenger numbers to 73.4 million in 2015 only as airlines used larger jets. At the same time, London is the world's biggest aviation market at close to 110 million originating passengers as of 2012, Davies said.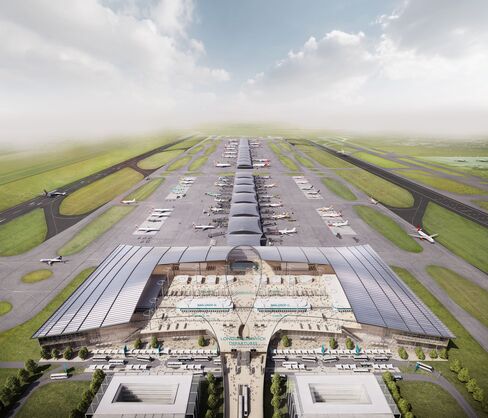 A third runway could be built at Heathrow by 2026, bolstering the U.K. economy by 147 billion pounds over 60 years, the Commission said -- while firmly recommending against the construction of a fourth strip at the site in future.
A longer Heathrow runway would deliver a smaller increase in capacity, Davies said. A second strip at Gatwick, located in a more rural area where fewer people would be affected by the jump in aircraft movements, offers less economic benefit since growth would most likely come from short-haul European routes.
Still in Race
Single hubs generally have more routes as passengers switching between planes make viable new destinations.
Gatwick said in a statement that it remains "very much in the race," since the Commission stated that the expansion of London's second-largest airport is "deliverable" and highlighted "significant environmental challenges" at Heathrow. Still, even EasyJet Plc, the airport's No. 1 client, said it backed the Davies plan and would like to open a base at Heathrow to complement operations at other London airports.
IAG Chief Executive Officer Willie Walsh said in the statement that Davies had recognized an "urgent need" while questioning whether "political will exists to turn his recommendation into reality." The Commission said a new runway would increase Heathrow's charges by about 10 pounds per head, though average fares would fall as a result of more competition -- something Walsh said his airline could not endorse.
Davies said his report is a "fundamentally different proposition" to previous studies and that it should end years of wrangling. Anti-Heathrow campaigners are already concerned that Cameron, once an opponent, has come round to the plan after watering down opposition before the May 7 election.
Read this next:
Recommended measures for reducing the impact of a bigger Heathrow on people nearby or under aircraft flightpaths include a ban on all night flights, a legally binding "noise envelope," and the creation of a fund to finance mitigation programs such as home insulation. The study also says commitments should be made on air quality and suggests that an independent aviation noise authority be created.
Before it's here, it's on the Bloomberg Terminal.
LEARN MORE