Egypt Bombs Islamic Militants Who Attacked Army Troops in Sinai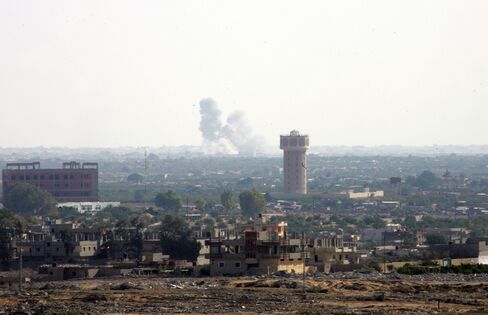 Egypt's army suffered its deadliest blow in years of fighting Islamist militants in the Sinai peninsula, losing dozens of soldiers in a wave of attacks as authorities vowed to respond with more firepower and harsher laws.
More than 60 security personnel and six civilians were killed on Wednesday by assailants who used rockets and car bombs, according to the security directorate in north Sinai, which borders Israel and the Gaza Strip. The army command in Cairo gave a confirmed death toll of 17 soldiers in a televised statement, and said more than 100 of the jihadists were killed as F16 jets and Apache helicopters were deployed in pursuit. A group linked to Islamic State claimed responsibility.
President Abdel-Fattah El-Sisi, speaking at the funeral of a top prosecutor assassinated in Cairo earlier this week, had vowed to intensify a crackdown on militants, and his government rushed to tighten laws after Wednesday's attack. The former army chief led the ouster of an Islamist predecessor two years ago and has since presided over the suppression of the Muslim Brotherhood, without being able to halt the violence.
"You're going to have pressure inside the military for revenge," said Samuel Tadros, a senior fellow at the Hudson Institute in Washington. "This will mean a heavier crackdown in Sinai, which will not lead to anything. Unfortunately, the anger the regime, the public and the army feel at the moment prohibits the possibility of developing a new strategy."
Prosecutor Killed
The strikes, mostly in or around the town of Sheikh Zuwayid, come two years after mass protests against the elected Islamist President Mohamed Mursi, and his subsequent overthrow. The anniversary has sparked an increase in violence, including the killing this week of chief prosecutor Hisham Barakat, who played a role in the trial of leading Islamists after Mursi's fall. Many have been sentenced to death.
Egypt's authorities accuse the Muslim Brotherhood, which won a string of elections after the 2011 uprising against Hosni Mubarak, of being behind much of the violence. The group has mostly expressed a commitment to peaceful protest against El-Sisi's rule, though it also endorsed a religious decree calling for his removal by any means necessary.
On Wednesday, security forces shot dead nine members of the Brotherhood in an exchange of fire at an apartment west of Cairo, according to police. The Interior Ministry said weapons and evidence of plans for attacks were found there.
'Cannot Be Contained'
The Brotherhood issued a statement calling the act an "assassination." It said they were part of a group that supported the families of imprisoned and dead members, and warned of a "new stage where the anger of the oppressed cannot be contained."
Authorities are also signaling an escalation.
"We're in a real state of war," said Prime Minister Ibrahim Mahlab. The cabinet approved new anti-terror laws late Wednesday to speed up trials.
"It's clear that the Egyptian government is going to pursue a repressive political strategy to try to deal with the challenge of extremism and terrorism," Steven Cook, senior research fellow for Middle Eastern Studies at the Council on Foreign Relations, said in an e-mailed response to questions. The risk is that "repression can produce a larger pool of people willing to take up arms against the state," he said.
The persistent violence threatens to undercut efforts by El-Sisi to persuade investors that Egypt is stabilizing after years of unrest, and revive an economy that has stagnated since Mubarak's ouster.
'Day-to-Day Fire'
El-Sisi "will be feeling impatient because he knows that he needs to demonstrate progress," said Crispin Hawes, managing director of research company Teneo Intelligence in London. "He doesn't want to run Egypt in a situation of day-to-day fire."
Egypt's financial markets were closed Wednesday for a public holiday. The global depository receipts of Commercial International Bank, the country's biggest publicly traded lender, fell 2.7 percent to $7.15 in London trading.
Northern Sinai has been the center of the fight against insurgents since Mursi's ouster, though the unrest there stretches back more than a decade, with sporadic attacks targeting tourist areas along its Red Sea coastline, or military and police positions.
The Jerusalem Post reported that Israel, whose peace treaty with Egypt requires both countries to approve military operations around the border areas, gave the go-ahead for an expanded deployment.
The last militant offensive on a comparable scale to Wednesday's was in January, when at least 30 troops were killed and the local Islamic State affiliate, known as Sinai Province, claimed responsibility.
A state of emergency and a night-time curfew in parts of the region have been in effect since October, when a similar strike left 31 dead.
"The attack today proves that all the talk about making laws stricter will not be effective," said Mustafa Kamel El Sayed, a professor of political science at Cairo University. "Those who carry out these attacks are waging a religious war; no legislation will stop them."
Before it's here, it's on the Bloomberg Terminal.
LEARN MORE