This New Indicator Shows the U.S. Job Market Finally Heating Up
Wage growth has substantially accelerated, Atlanta Fed data show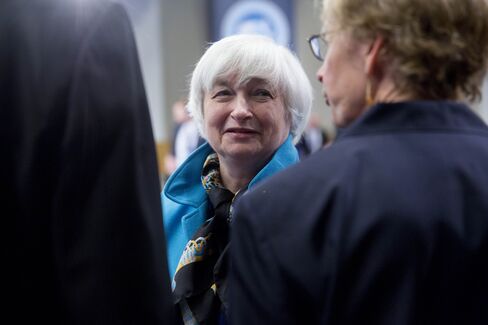 Just how quickly is everyone's paycheck growing? It's one of the most important questions in the American job market right now, with only inconclusive answers derived from conflicting data so far. This week, a regional Federal Reserve bank added a new indicator to the mix in hopes of offering policy makers a closer look at what's really happening in the U.S. job market.
The new index—which shows a median wage increase of 3.3 percent in the 12 months through May, a substantially faster pace than even just a year ago—gives ammunition to central bank hawks who would like to raise interest rates in September.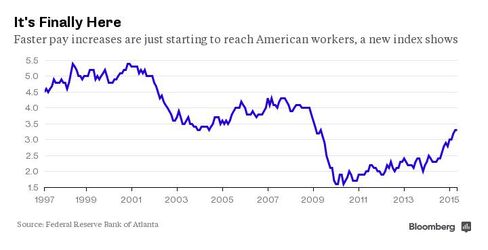 There are currently two principal measures of wages: the Labor Department's average hourly earnings measure, which will be reported on Thursday, and the Employment Cost Index, a broader measure that includes benefits. They give somewhat conflicting pictures on the state of wages, with hourly earnings up 2.3 percent though May and quarterly ECI up a more robust 2.8 percent through the first quarter, excluding government workers.
The Atlanta Fed's newly introduced measure is based on Census Bureau questions to thousands of households, compared to other measures that survey businesses. "We are seeing signs of wage pressure," says John Robertson, a senior policy adviser at the regional bank.
While some economists consider the Employment Cost Index the single best measure of earnings, an advantage of the Atlanta Fed's tracker is it will come out monthly and provide a much faster take on the job market.
The Atlanta Fed wage measure has moved in tandem with changes in unemployment rate from 12 months earlier, Robertson says. This suggests that further wage gains are coming because the jobless rate has dropped to 5.5 percent, from 6.3 percent in May 2014.
Wage gains have doubled from 1.6 percent in January 2010, but they remain lower than the 4.1 percent level during the month the recession started in December 2007, the gauge shows.
Robertson's takeaway: "The labor market is tightening, though not necessary tight. We are seeing some acceleration in wages—though not back yet to the levels when the market was tight, like 2006-2007."
Neil Dutta, head of U.S. economics at Renaissance Macro Research in New York, highlighted an early version of the index that Robertson wrote about on the Atlanta Fed's blog in early June. The rise in wage growth should bolster the Fed's confidence that inflation is moving up, he says.
"Clearly this has entered into the Fed's thinking," he says in an interview. "It is important to the Fed's response function," and U.S. data, including wages, could bring about the first rate increase in September. While some economists believe that Fed Chair Janet Yellen may want to wait until later in the year, the Atlanta Fed data add to the argument that an increase could be warranted sooner.
It's not the first time the Atlanta Fed's research has played a role in shaping the policy debate. The institution, one of 12 regional banks, was more accurate than private forecasters in predicting the first-quarter slowdown in U.S. growth. That's made its GDPNow tracker a must-read.

Before it's here, it's on the Bloomberg Terminal.
LEARN MORE