JetBlue Airways has been warning for nearly a year that a new fee for checked baggage would be coming by July 1. That doesn't mean customers will like it any better now that it's here, and to judge from the last round of social media critiques, they won't.
https://twitter.com/elliottdotorg/status/535084962811490304
https://twitter.com/chocobohomo/status/535083923479732224
JetBlue launched a revamped website this morning. Its key feature is a new, three-tier "fare families" system that banishes a free checked bag as part of the cheapest fare option. The fee is $20 for the first checked bag, if you pay online or at an airport kiosk, and $25 at the airport ticket desk; the company hopes to persuade the roughly 50 percent of customers who check a bag to handle that transaction online. A second bag costs $35, down from $50. JetBlue will still offer a free first bag for 10 international destinations.
The new fee, disclosed in November after months of hints, leaves Southwest Airlines alone among large U.S. carriers in not charging for the cargo hold. It has also made some passengers and industry watchers wonder whether, at 15, JetBlue is already acting middle-aged.
"We can thank the obsession with quarterly earnings and pandering to 'analysts,'" one commenter wrote on a discussion thread at FlyerTalk.com.
"The move to a we'll-suck-less-than-the-other-guys approach is JetBlue at its most defensive, least disruptively innovative," columnist Joe Brancatelli wrote in December.
On top of the luggage fee, JetBlue will begin next year to add 15 seats to its 150-seat Airbus A320s, following an industry trend of "seat densification" to boost revenue. The new, slimmer seats will reduce the space between rows from 34.7 inches to 33.1 in. across its A320 fleet, but it will still be the most generous allotment of legroom among U.S. airlines, JetBlue says.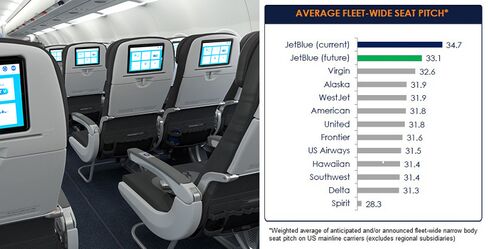 It's all part of an effort under Chief Executive Officer Robin Hayes to improve the airline's finances and show Wall Street that the company can be friendly to both air travelers and investors. The bag fee, tighter seating, and additional revenue efforts are expected to bring in more than $450 million in operating income in 2019, when the cabin refits are finished, JetBlue told investors on releasing details of its plans in November. Those figures could be "somewhat understated," partly reflecting conservatism, Morgan Stanley analyst Rajeev Lalwani wrote last week in a client report. Shares of JetBlue have surged 86 percent over the past year, to $20.
A further reason JetBlue imposed a bag fee: It wasn't getting any financial credit for not having one. Most customers assume by now that the fee is charged across the industry, which added a host of fees as airlines floundered during the financial crisis.
"We do this research regularly, and we have seen a change over the years," Marty St. George, a JetBlue executive vice president, said on Friday in an interview at the airline's Queens, N.Y., headquarters. "The feedback from customers is always: Don't touch the TVs, don't touch the snacks, don't touch the Wi-Fi, don't touch the crew." In that research, "we didn't really see free bags pop," he says. So when JetBlue was seeking to bolster its financial returns, charging for a bag was a relatively easy call.
JetBlue has been consistently profitable in recent years, but it hasn't displayed the sort of return on invested capital Wall Street likes to see, partly because of a focus on expanding its network. The stock has also lagged behind most of its U.S. peers over the past decade. Analysts pushed JetBlue directors not to renew former CEO David Barger's contract when it expired this year.
U.S. airlines have been moving toward more fees and less legroom in the economy section, even as they have spent lavishly to make first class and business class cabins plusher. JetBlue has never competed on lowest price, assuming that people will spend a bit more for amenities such as free snacks, more space, live television and most recently, broadband Wi-Fi. "I will put this product up against any product in North America," St. George says. "No question."
The airline will use part of the fee revenue to help refurbish its A320 fleet with the same lighter-weight B/E Aerospace Pinnacle seats found on its A321 fleet, along with larger video screens. The A321s were delivered new with the greater seat density and screens.
The company was surprised by the negative reaction—that an airline striving to restore "humanity" to air travel should be seen as just another nickel-and-dimer in an industry that is widely reviled.
"Maybe we're naive, but I was very surprised to get blasted like we did," St. George told Bloomberg in November, amid the social media furor over the fee and seat announcements.
There will probably be a new round of lamentations, especially among "drama-loving" bloggers who "may , at least online, shrilly cite JetBlue's actions as more proof of the end of civilization as we know it," Henry Harteveldt, a travel analyst with Atmosphere Research Group, wrote on Monday in an e-mail. "An airline could find a cure for cancer and give everyone who wanted one a free kitten or puppy, and people would still be mad at it."
Before it's here, it's on the Bloomberg Terminal.
LEARN MORE