Ofili's Madonna Sets Record at Christie's $150.3 Million Sale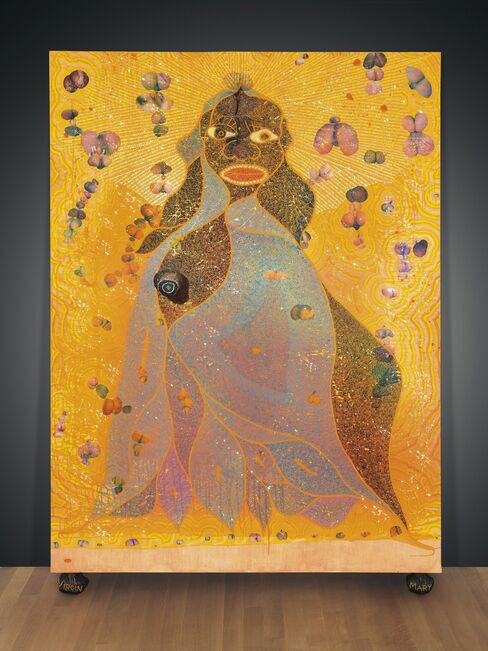 Chris Ofili's painting of a black Virgin Mary decorated with elephant dung that caught the ire of former New York City Mayor Rudolph Giuliani sold for 2.9 million pounds at Christie's, an auction record for the British artist.
The postwar and contemporary art evening sale on Tuesday in London totaled 95.6 million pounds ($150.3 million), a 3.8 percent decrease from the similar auction last year.
Ofili's "The Holy Virgin Mary" sparked controversy in the 1999 exhibition "Sensation" at the Brooklyn Museum in New York of works by British artists from the collection of Charles Saatchi.
Then-Mayor Giuliani criticized the inclusion of the 1996 painting, saying it desecrated the Catholic Church. A lawsuit ensued but the work remained on view for the duration of the show.
The 8-foot-tall canvas depicts a black Madonna on a gold background. The figure is wrapped in a petal-like robe with one exposed breast made of elephant dung. The work rests on two globes of dung, one spelling "Virgin" and the other "Mary."
The seller Tuesday was David Walsh, an Australian collector and professional gambler who is expanding his Museum of Old and New Art in Hobart, Tasmania. Proceeds from the sale of this work as well as others by Ofili, Damien Hirst and Jenny Saville, who were part of the Young British Artists movement, will go to build a wing for several large-scale works by James Turrell.
Gambling Again
"Selling isn't easy. I love the things I own," Walsh said in a statement. "I made my money gambling. At this auction, I'm gambling again. My gamble isn't that you will pay enough for these works to justify my selling. My wager is that the future, for me and my museum, is more rewarding than the past."
Ofili's previous auction record of 1.9 million pounds was set at Christie's in 2010 for a painting titled "Orgena."
"The Holy Virgin Mary" was estimated at 1.4 million pounds to 1.8 million pounds. Christie's guaranteed the seller an undisclosed minimum price for the work and ensured it will sell by securing financing by a third party.
Before it's here, it's on the Bloomberg Terminal.
LEARN MORE