Why Won't We Meet? Latest Row Between Ukraine and Its Creditors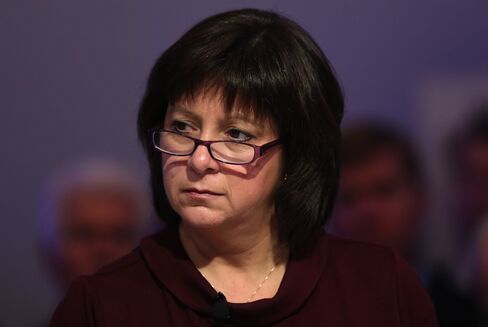 Ukraine and its creditors can't even agree on why they can't agree to meet.
Each side has released statements in the past week insisting that they want to meet for direct negotiations and that the other party is responsible for holding up talks.
Ukraine has pinned the blame on creditors' refusal to sign a confidentiality agreement that would clear the way for non-public information to be discussed. Bondholders deny this. They say Finance Minister Natalie Jaresko's legal team is blocking the agreement and point to her unwillingness to attend a meeting with them and the International Monetary Fund in Washington today.
The dueling underscores the lack of progress in negotiations to change the terms on about $19 billion of Ukrainian sovereign debt as the nation struggles to rebuild its economy amid a separatist rebellion in its easternmost regions. The fundamental disagreement is that the Finance Ministry is pushing for a writedown on principal, while creditors say the IMF's restructuring goals can be met by pushing back due dates and cutting interest payments.
"The situation is likely to get worse before it gets better," Vadim Khramov, an economist at Bank of America Merrill Lynch in London, said by e-mail. "The meeting in Washington is a positive step, but it's unlikely to lead to any resolution because Minister Jaresko will not attend, mentioning that it would be a technical discussion."
Proposal Tangle
The impasse is exemplified by the tangle surrounding Ukraine's proposal, sent to the advisers of a four-member creditor group led by Franklin Templeton on June 19. The Finance Ministry reiterated on Friday its willingness to halt bond payments if the offer isn't accepted, while creditors say they can't assess the plan without the latest forecasts from the IMF.
Ukraine can't send the IMF economic estimates to bondholders because the information isn't public and no confidentiality agreement is in place. The creditors don't want to sign a confidentiality agreement because it will impact their trading activities, according to the finance ministry.
The nation's Eurobonds returned 6.4 percent this month, the most in the Bloomberg USD Emerging Markets Sovereign Bond Index, trimming this year's loss to 5.2 percent. Notes maturing in July 2017 dropped 1.16 cents to 48.01 cents on the dollar by 8:02 p.m. in Kiev on Tuesday, headed for the biggest drop since June 11.
Default Threat
The Finance Ministry appears to be "trying to make it harder to find a positive solution when they should be doing the opposite," a spokesman for the creditors said yesterday in response to Jaresko's statement about the confidentiality issue. "There is no reason why these talks cannot take place immediately and therefore the committee hopes that Minister Jaresko will decide to attend tomorrow's important session in Washington."
Jaresko won't attend the talks in Washington because they are intended to discuss the IMF's latest economic forecasts for the nation, she said on Thursday. Debt envoy Vitaliy Lisovenko will attend in her place. It's "theoretically possible" that Ukraine won't make a $120 million coupon payment due July 24, she said on the same day.
Analysts and traders have varied opinions. Jaresko is within her rights to ask for a confidentiality agreement if Ukraine is going to reveal more about its position, Fyodor Bagnenko, a Kiev-based trader at Dragon Capital, said by e-mail on Monday. Her comments may have more to do with preparing the Ukrainian people for an impending payments freeze, said Michael Ganske, the head of emerging markets at Rogge Global Partners Plc in London.
"Ukraine already said that it would impose a moratorium if bondholders do not agree on the deal, which is a risky strategy as the amount of debt under restructuring is large," Bank of America's Khramov said. "If a hard default happens, both sides are likely to blame each other."
For more, read this QuickTake: Ukraine's Other War
Before it's here, it's on the Bloomberg Terminal.
LEARN MORE