Solar Plane's Harrowing 120-Hour Flight Begins
One pilot, five days over the Pacific, no fuel
Solar Impulse, a plane powered entirely by the sun, has departed on a harrowing five-day journey over the Pacific Ocean. It's a one-way ticket from Japan to Hawaii. There's no turning back for this one-seater plane that cruises at just 40 miles an hour.
The plane's pilot, André Borschberg, 62, is making the flight alone, subsisting on 20-minute naps and a bit of mind-focusing yoga. Solar Impulse needs every daylight hour for charging batteries and gaining altitude, so a morning of overcast skies could end in disaster. The plane had been grounded in Nagoya, Japan, for weeks awaiting a break in the region's rainy season.
The Solar Impulse is on a mission to become the first electric plane to circumnavigate the globe. The journey started in Abu Dhabi in March and must be completed before October, when daylight hours in the Northern Hemisphere become too short to keep the solar plane airborne. If successful, the current leg would set the records for the longest duration ever flown by a single pilot (five days) and the longest distance ever traveled by an electric plane (more than 4,000 miles).
"We are so close," Borschberg said in an interview two weeks ago. "This is the moment of truth."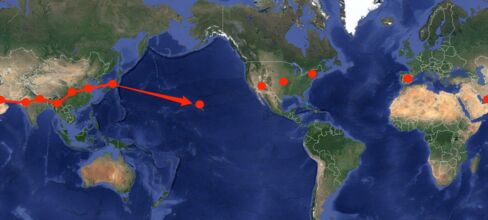 Read More About the Solar Impulse:
Before it's here, it's on the Bloomberg Terminal.
LEARN MORE