Film Star's Daughter Wins Fans as Possible Philippine Leader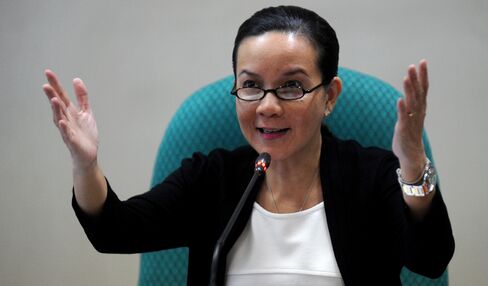 A first-time Philippine senator who is the adopted daughter of a film star is edging out veteran politicians as the preferred candidate to replace President Benigno Aquino, even before she's declared her intention to run.
Grace Poe, 46, was picked by 12 of 23 analysts and bankers in a Bloomberg survey this month as the best choice to steer the Philippine economy after Aquino leaves office a year from now. Vice President Jejomar Binay, 72, got three votes, while four chose Interior Secretary Mar Roxas, 58.
Poe, whose senatorial bid was backed by Aquino, combines a compelling life story with a relatively new political career unblemished by scandal. Abandoned as a baby at the steps of a church in Iloilo city and raised by Fernando Poe Jr. -- famous for roles where he fought for the masses -- Poe's perceived honesty resonates in a country whose biggest priorities are fighting corruption and building infrastructure.
"Aquino gave us a second chance to be a tiger economy," said Jonathan Ravelas, chief market strategist at BDO Unibank Inc. in Manila. "But we aren't there yet. The next president has to have the will to stop corruption and boost infrastructure. In the case of Grace Poe, people perceive her as honest, somebody who will protect the anti-corruption drive."
More than half the respondents in the Bloomberg survey predict economic expansion of at least 6 percent will be sustained in the next 10 years. The biggest priorities economists, bankers and academics picked out for the next government were infrastructure investment and protecting the anti-corruption drive.
Investment Grade
Aquino, who by law is only allowed a single six-year term, has overseen the Philippines' attainment of investment-grade credit ratings, as his government took steps to cut corruption, raise revenue and lure investment. The benchmark Philippine stock index has more than doubled since he took office, with economic growth exceeding 6 percent from 2012 to 2014.
For economic growth to reach 8 percent, the next president will need to push harder for reforms including enhanced competition, simplified regulations, and higher investment in health, education, and infrastructure, Gareth Leather, an economist at Capital Economics Ltd., said in a June report.
Poe also leads the latest survey on preferred presidential candidates for the May 2016 election from Pulse Asia Research Inc. She was part of Aquino's coalition when she ran for senator, although she isn't a member of his party. Aquino has said he will announce the candidate he supports after his state of the nation address on July 27.
If she runs, she will have to battle the vice president who has already said he will seek the presidency. Binay, a former mayor of Makati city, the nation's financial and business center, last week quit his posts in Aquino's cabinet.
Doctor's Salaries
Aquino's successor will need to contend with China's growing assertiveness on disputed territory, joblessness and a surging population. Rodrigo Duterte, Davao city mayor and another potential candidate, said last week fighting graft must be a priority for the country's next leader to safeguard economic growth.
As senator, Poe has championed bills including freedom of information, salary increases for government doctors and nurses and modernizing the police agency. On her website, Poe says she "wants government to take a more active role in helping children of poor families." She is married and has three children.
Poe, a political studies graduate from Boston College, has worked as a teacher, a product liaison officer and a product manager in the U.S. In 2003, she returned to the Philippines to help her father Fernando campaign for the presidency. He lost to Gloria Macapagal-Arroyo in 2004 and died the same year.
Before it's here, it's on the Bloomberg Terminal.
LEARN MORE