Baha Mar Resort Files Bankruptcy Blaming Contractor Delays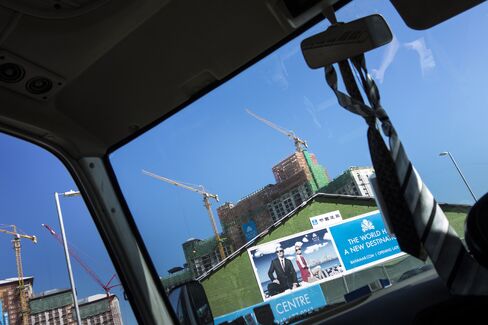 The owners of Baha Mar, a Caribbean resort project valued at more than $3.5 billion, filed for bankruptcy court protection in Delaware, blaming delays by the general contractor.
The four-hotel resort and golf complex, featuring the largest casino in the Caribbean and its own private island, was presented as the most significant tourism project in the history of the Bahamas. But disputes between the Swiss-Bahamian Izmirlian family, which runs Baha Mar, and a Chinese builder caused the project to miss its scheduled opening in March.
"The general contractor repeatedly has missed construction deadlines," Baha Mar Ltd. Chief Executive Officer Sarkis Izmirlian said in a statement Monday. "Unable to open, the resort has been left without a sufficient source of revenue to continue our existing business."
Construction on Baha Mar, which was to open on March 27, remains unfinished and no new date has been set. The project is 97 percent complete, according to court papers.
Officials at general contractor China Construction America Inc. couldn't be immediately reached for comment.
Baha Mar hired and trained about 2,000 employees at a cost of about $4 million a month to prepare for the March opening, Izmirlian said. Those people have been kept on, he said. Bankruptcy protection will provide the time needed to complete the project, according to the statement.
'Forced to Cancel'
When the March opening date passed, Baha Mar and affiliates were "forced to cancel months' worth of room reservations and group meeting events and provide numerous customers with vouchers, refunds, and in certain cases were required to find customers suitable accommodations elsewhere, all at a cost in excess of $6 million," Thomas Dunlap, designated representative of the debtors, said in court papers.
Baha Mar Ltd. listed unaudited assets of $3.1 billion and debt of about $2.7 billion in Chapter 11 documents in U.S. Bankruptcy Court in Wilmington, where affiliate Northshore Mainland Services Inc. is incorporated.
The company is seeking court approval of as much as $80 million in financing arranged by Izmirlian that will enable Baha Mar to operate during the Chapter 11 process, according to the statement. The company said it plans to use $30 million of that for operations over the next 30 days.
Among the largest unsecured creditors listed were CCA Bahamas Ltd., owed $72.6 million in construction costs; Bahamas Electricity Corp., owed $19.5 million; and Yates-Osprey J.V. owed $5.28 million. All are based in Nassau. Bally Technologies of Las Vegas is owed more than $1 million in trade debt, according to the filing.
The main case is In re Northshore Mainland Services Inc., 15-11402, U.S. Bankruptcy Court District of Delaware (Wilmington).
Before it's here, it's on the Bloomberg Terminal.
LEARN MORE