AOL to Take Over Microsoft's Display Ad Business, Use Bing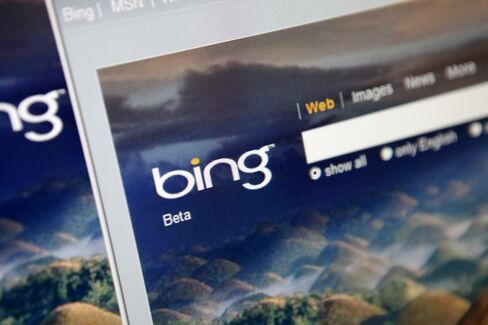 Microsoft Corp. is getting out of Web display advertising, with AOL Inc. taking over the business and letting the software maker focus on mobile and cloud computing.
AOL will use Microsoft's Bing Internet search engine instead of Google Inc. as part of the 10-year deal, the companies said in a statement Monday. Microsoft also said it's expanding an ad partnership with AppNexus Inc., an online marketing company.
AOL will hire about 1,200 Microsoft workers in display ad sales, marketing and engineering, according to Gerasimos Manolatos, a spokesman for AOL. AppNexus will take other Microsoft employees. Some remaining employees will be offered other jobs at Microsoft, said a person with knowledge of the matter, who asked not to be identified because specific details of the deal haven't been announced.
Microsoft is shedding the business, which focuses on graphic ads such as banners and videos, as Chief Executive Officer Satya Nadella works to sharpen focus on three key areas: personal computing, cloud platforms and business productivity. Since becoming CEO early last year, Nadella has been streamlining the workforce, acquiring mobile and cloud software makers, and paring units not central to his strategy.
Separately, Microsoft said today that it's selling part of the Bing maps unit to car-booking company Uber Technologies Inc. As part of that deal, Uber will offer jobs to about 100 Microsoft employees.
Display Ads
Financial terms of the deals weren't immediately known. Microsoft unveiled a plan a year ago to eliminate as many 18,000 jobs, the largest round of cuts in its history as Nadella overhauls the software maker.
Peter Wootton, a spokesman for Redmond, Washington-based Microsoft, declined to comment on the workforce impact of the deal.
The deal with AOL marks the end of a years-long, multibillion-dollar effort by Microsoft to profit from the display advertising market with its own unit. The company spent $6.3 billion in 2007 to buy AQuantive Inc. to build the business weeks after Google Inc. moved into the market with the purchase of DoubleClick. After several strategy shifts, execution failures and executive departures, Microsoft in 2012 was forced to write down almost the entire value of AQuantive.
AOL, which was bought by Verizon Communications Inc. this month, will take over management and sales responsibility for all of Microsoft's display, mobile and video advertising inventory in the U.S., U.K., Canada, Brazil, France, Germany, Italy, Spain and Japan, according to the statement. AOL will start using Bing as the search engine for its users from Jan. 1.
Global Sales
Microsoft is splitting up the direct ad sales team on a country-by-country basis between AOL and AppNexus, said Michael Rubenstein, president of New York-based AppNexus. His programmatic advertising technology startup, which automates buying and selling of ads online, will oversee sales in Austria, Belgium, Denmark, Finland, Ireland, the Netherlands, Norway, Portugal, Sweden and Switzerland.
"AppNexus will be wholly responsible for ad revenue for Microsoft in those European countries," Rubenstein said in an interview. The startup is expected to take some Microsoft employees, pending legal approval in the countries, though he couldn't disclose the number of people or financial details on the deal.
Before it's here, it's on the Bloomberg Terminal.
LEARN MORE