Lagarde Says IMF Can't Lend to Greece If June Payment Missed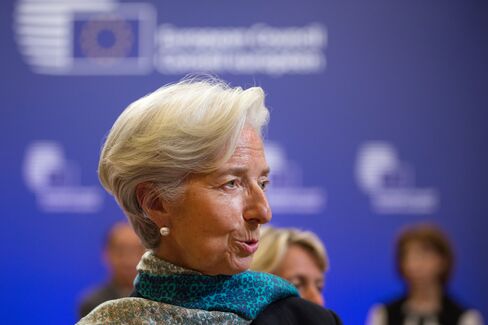 The International Monetary Fund will be prevented by IMF rules from providing additional financial assistance to the Greeks if they miss a June 30 payment, Managing Director Christine Lagarde said.
Lagarde, in an interview with the BBC, also said a referendum scheduled in Greece for July 5 may be asking voters to weigh proposals that are no longer under consideration.
"I can't speak for the IMF program, because the IMF program is on, but the European financial arrangement expires June 30," she said. "So, at least legally speaking, the referendum will relate to proposals and arrangements that are no longer valid."
If Greece doesn't make the $1.7 billion payment due to the IMF on June 30, it won't have access to funding until it clears up its debts, she said, reiterating the fund's policy on arrears. While dismayed at the breakdown of negotiations over a new bailout package, Lagarde said Greece would remain a member of the IMF, and receive technical assistance.
The IMF is also constrained by fund policies from helping Greek banks with their immediate liquidity needs, which would have to be met by the European Central Bank and the Bank of Greece. In a separate interview with CNBC, Lagarde said she found the negotiations to have been "very cumbersome and very frustrating," according to a transcript posted on the news channel's website.
Negotiations could be revived if Greek voters show they want to stay in the euro zone, Lagarde said.
"If there was a resounding 'yes, we want to stay in the euro for good, we want to be part of that, we want to restore the status of the economy, we want to be sustainable in the long run,' there would be a resounding 'let us try,'" she told BBC.
Before it's here, it's on the Bloomberg Terminal.
LEARN MORE