These Three Maps Show How Drugs Move Around the World
Smugglers adjust their routes to match the drug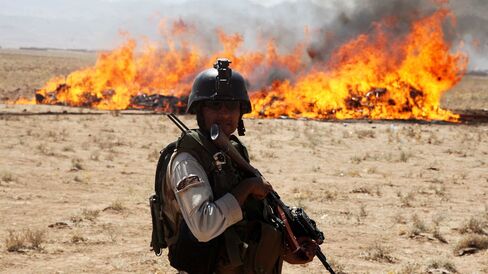 In 2013, 246 million people worldwide—one of every 20 people between the ages of 15 and 64—used an illegal drug. Some 27 million of those are problem drug users suffering from addiction, dependence, or other disorders.
Combined, they would make up the 27th largest country in the world—nearly the size of Malaysia's population. So how do drugs get delivered to market?
According to the annual World Drugs Report released Friday by the United Nations Office on Drugs & Crime, traffickers are evolving their routes in ways unique to the type of drug being smuggled.
Opiates: Major producers of opiates (or narcotics derived from the poppy plant, such as opium, morphine, and heroine) include Afghanistan, Myanmar, Laos, Mexico, and Colombia.
Afghan opiates are generally smuggled to Europe on the "Balkan route'' through neighboring Iran and overland to Turkey, a major transit point. Or they move north via central Asia to Russia, south through Pakistan, and onward to southern and eastern Asia.
New seizures made in Armenia and Georgia, countries never featured on the Balkan route, indicate that trafficking networks are experimenting with new trajectories, the UNODC said.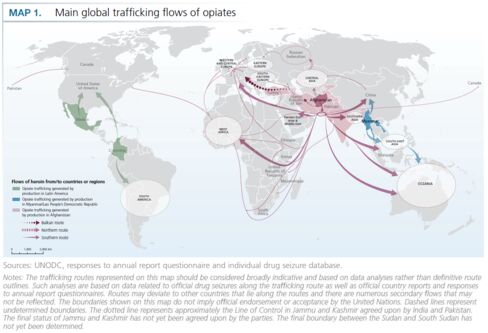 Cocaine: The world's three major suppliers of cocaine are Bolivia, Peru, and Colombia. Coke usually flows north from the Andean countries to the U.S. and Canada and across the Atlantic to Europe via the Caribbean or Africa. Cocaine traffickers increasingly transport large quantities via sea, accounting for about 60 percent of the total quantities seized in 2013, according to the report.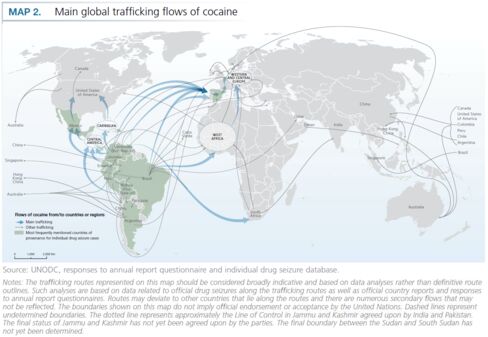 Synthetic Drugs: Synthetic drugs, which include ecstasy, amphetamine, and methamphetamine, are believed to be produced all around the world. While they have been primarily trafficked within regions, significant increases in seizures over the past five years indicate new routes are being created to connect regional markets. From the UN report:
"New international supply channels [link] major markets in North America and East and Southeast Asia. … West Africa in particular appears to have become an established source of methamphetamine trafficked to East and Southeast Asia via South Africa or Europe. Turkey may have emerged as a transit point for methamphetamine smuggled from West Asia to Western and Central Europe. Recently there have also been reports of methamphetamine trafficking from Western and Central Europe to North America, South America and East and Southeast Asia."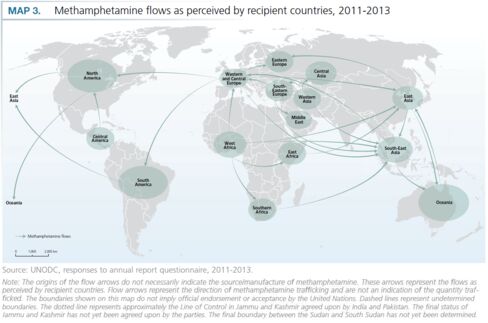 For more, read this next: New UN Report Shows Marijuana Is Getting Stronger and Cocaine Is in a Bear Market
Before it's here, it's on the Bloomberg Terminal.
LEARN MORE