Russia Sets Out Moon Landing Ambition, Leaves Mars Plans to NASA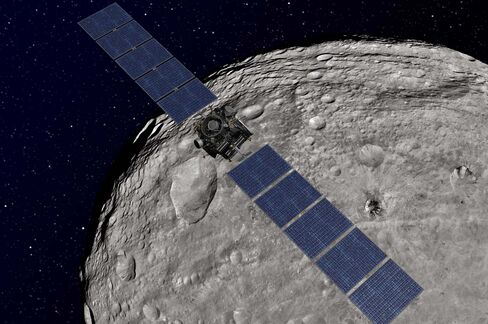 Russia's state space agency chief is shooting for the Moon, three years after a predecessor warned that the country was on the verge of losing its competitiveness in the industry.
A manned lunar mission in 2029-2030 is Russia's priority, while there are no "current stage" plans for a journey to Mars, Igor Komarov, head of the Federal Space Agency or Roscosmos, said in an interview in St. Petersburg last week.
"NASA has Mars as the priority," Komarov said. "We at this stage are making the Moon our priority. We can be good in rounding each other out and working jointly on this program."
Komarov's ambition of landing a Russian on the Moon contrasts with former Roscosmos chief Vladimir Popovkin's warning in 2012 that the country's space industry risked being uncompetitive within three or four years without "urgent measures."
Russia, which put the first man into orbit in 1961, sees the Moon as a base for deeper space missions, Komarov said. It plans to send three unmanned craft to the Moon before a Russian cosmonaut attempts a landing, though Earth's nearest neighbor shouldn't become the object of a technological race between Russia and the U.S., he said.
Space Partners
"We see it as a joint project and are ready to invite our partners for it to be done," said Komarov, 51, who was appointed Roscosmos chief in January after it merged with United Rocket and Space Corp. that he headed. Previously in charge of Russia's OAO AvtoVAZ carmaker for four years until 2013, he was given the task of overhauling the country's space industry following a series of recent accidents during launches.
Amid worsening ties between Russia and the U.S. over the conflict in Ukraine, space research could provide an example of cooperation that doesn't depend on politics, Komarov said.
Sanctions imposed by the U.S. and the European Union didn't affect cooperation in running the International Space Station, he said. Increased equipment prices and delays in international projects show that Russia's space industry hasn't completely avoided the tensions and it's now forced to seek greater cooperation with fellow members of the BRICS group that includes India, China, Brazil and South Africa, according to Komarov.
"Global projects are easier to implement together," he said. "Less investment is needed, it benefits everyone."
Humanity will always be united by the "eternal dream" of searching for civilizations on other planets, Komarov said.
"I do believe in the existence of an intellect different from ours," he said.
Read this next:
Before it's here, it's on the Bloomberg Terminal.
LEARN MORE