Brazil to Boost Beef Productivity by 82% to Protect Amazon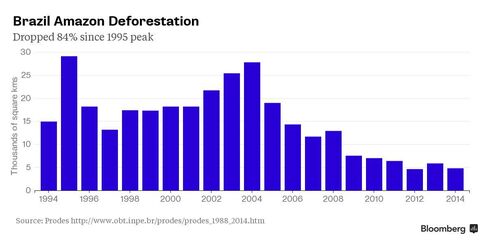 Brazil, which was overtaken last year by India as the world's biggest beef exporter, is encouraging cattle farmers to boost productivity around the Amazon rain forest as it balances environmental protection with economic production.
The nation wants to increase output at beef farms to at least 2 head-of-cattle-per-hectare from about 1.1 head, Francisco Oliveira Filho, director of policies to reduce deforestation at the Environment Ministry, said Friday in an interview in London. Such an increase will ease pressure to fell more trees, he said.
"There is space to increase the productivity of the beef sector in the Amazon region" and the 2 head-per-hectare level has been reached in some of the nation, he said. "On one side you have people that want development at any cost. On the other hand you have people trying to protect everything. We are trying to find something in between."
Brazil plans to deliver a target number in its climate pledge later this year to reduce illegal deforestation, primarily by ranchers who slash and burn trees to breed livestock. Farmers and land owners in Brazil's Amazon biome can legally extract about 20 percent of forest on their land, Oliveira Filho said.
According to the post-2020 plan being developed, any remaining legal deforestation will probably be compensated by planting of primarily native forest, Environment Minister Izabella Teixeira said in April.
Green Fund
Until then, Brazil is seeking to cut annual deforestation in its Amazon region to 3,925 square kilometers (1,515 square miles) by the end of the decade from almost 5,000 square kilometers last year, Oliveira Filho said, citing official data. It was more than 29,000 square kilometers in 1995, government data show.
The nation will probably seek funding from the United Nations Green Climate Fund to help with forest protection, he said. Brazil doesn't currently plan to sell emission credits to help protect its forests, he said.
The unspecified amount of Green Climate Fund money might be used partly to boost funding for research already being carried out into finding better varieties of cattle that are suitable for the Amazon region, Oliveira Filho said. They could be ready for slaughter in about two years instead of the current four years, he said.
Encouraging farmers to rotate herds in smaller paddocks can help boost pasture growth and further increase productivity alongside forest protection, he said. "We will not need to move into the forest any more."
Development Bank
Still, cutting deforestation to zero probably isn't realistic under Brazil's current laws, Oliveira Filho said.
Money from the Green Climate Fund may add to finance for the Amazon Fund, which is operated by the nation's development bank Banco Nacional de Desenvolvimento Economico e Social, he said.
The nation's experience using satellites and radar to measure deforestation will help others do it too, including countries covering the Congo basin in Africa, Oliveira Filho said. Some African nations are expanding food production mainly by boosting the area of farmed land, he said.
"What we are going to do after 2020 is something that is being defined," he said. "It's like a diet, to lose the first few kilograms is easier than the last."
Before it's here, it's on the Bloomberg Terminal.
LEARN MORE