NASA to Use HoloLens on Space Station
Augmented reality will allow astronauts to receive instructions from earth easily, while completing complex tasks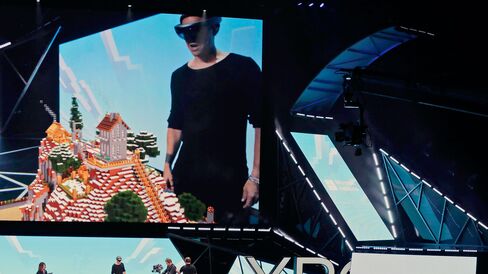 When SpaceX's resupply craft blasts off to the International Space Station on Sunday, a key part of Microsoft's future strategy will be riding along.
Two pairs of HoloLens augmented reality glasses are hitching a lift to the station. NASA has opted to use the devices, which overlay holograms on top of real objects, for astronaut training and tasks in space.
Called Project Sidekick, it's part of a larger partnership between HoloLens and NASA, which also said in January that it will use the devices for its Mars Rover program.
One part of the project involves a Skype app that lets someone on the ground who has a view of what a crewmember sees draw annotations that astronauts can view through their headsets while competing complex tasks. In January, Microsoft used the app to show a couple of hundred reporters how to repair a lightswitch mounted on a wall, using illustrations. Conceivably, it will be used for fixing or installing complicated bits of the station, which could formerly be done only with written and spoken instructions.
The other application involves training in space without aid from back home. With the goggles, animated holograms can be displayed on top of whatever an astronaut is working on. NASA hopes this will cut learning times and be useful on missions in deep space, where communication with earth is delayed and slow.
Here's an illustration (complete with appropriately ominous music):
Since you can't see what the astronauts are viewing through the goggles, it mostly looks like a bunch of people gesturing in the air as they interact with invisible holograms.
This isn't NASA's first foray into outfitting space explorers with AR goggles. In March, the agency said it teamed with a San Francisco company called Osterhout Design Group, which makes augmented-reality glasses for how-to guides. NASA spokeswoman Stephanie Schierholz said the agency is working with multiple partners on both augmented and virtual reality, and other devices may be used on the station in the future.
After the devices arrive, they will be tested in space. NASA expects them to be in use by the end of the year.
Read this next:
Before it's here, it's on the Bloomberg Terminal.
LEARN MORE