WWII Lawsuits Muddy Effort to Ease Japan-South Korea Tension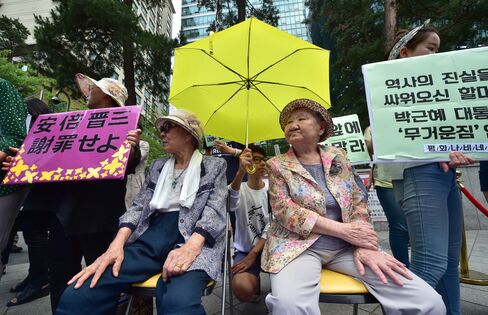 South Korean activists are complicating President Park Geun Hye's tentative steps to improve ties with Japan, by turning to courts to seek recognition they were forced to work for Japanese companies, used as sex slaves or suffered after the atomic bombing of Hiroshima.
A South Korean court Wednesday ordered Mitsubishi Heavy Industries Ltd. to pay five South Koreans compensation for forced labor prior to Japan's defeat in World War II. A planned appeal could take the case to the Supreme Court, where two similar cases are pending. Further muddying the issue is a threat this week by women forced into sexual servitude to file a suit against Japanese Prime Minister Shinzo Abe in the U.S.
A separate court Friday turned down a suit by 79 Koreans who worked in Hiroshima during the war. The plaintiffs demanded that the South Korean government either pay them 10 million won ($9,000) each or press Japan harder to compenstate them for their suffering after the nuclear bomb was dropped. Their leader Sung Rak Koo said he will appeal the court decision.
The legal wrangling contrasts with recent efforts by the nations' leaders to repair ties that have soured over a territorial dispute and Park's demands for further Japanese repentance over its World War II aggression. Park, who has refused to hold a bilateral summit with Abe, joined him in calling for a fresh start at ceremonies Monday to mark 50 years of diplomatic ties. The spat is weighing on trade and strategic cooperation between the two U.S. allies.
"No start is new unless all sins are redressed," said Kim Han Su, 97, an activist who was made to work at a Mitsubishi Heavy shipyard in the southern Japanese port of Nagasaki from 1944 to 1945. "Park and Abe are hiding their heads in the sand if they are trying to bury historical wrongdoing," said Kim, who isn't one of the plaintiffs.
Court Rulings
In its ruling Wednesday, the Gwangju High Court ordered the Tokyo-based company to pay 562 million won ($505,700) in compensation for using forced labor during Japan's 1910-1945 rule of the peninsula. One of the other cases involves Nippon Steel & Sumitomo Metal Corp. protesting a 2013 ruling to pay four Koreans 400 million won.
Mitsubishi finds the latest ruling "illegitimate and very regrettable," according to a company spokesman who asked not to be named due to company policy.
Japan contends that aid paid when normalizing ties in 1965, as well as later apologies and offers of compensation to colonial victims, should have settled the issue. Chang Wan Ick, a lawyer representing plaintiffs in two of the forced labor cases, says the treaty doesn't rule out individuals seeking compensations.
South Korea estimates at least 285,000 people were forcibly moved to Japan to work for Japanese companies and the Imperial Army.
Trade Decline
Tensions have contributed to a drop in trade and investment. Japan's direct investment in South Korea fell to $2.5 billion last year from $4.5 billion in 2012 when then-President Lee Myung Bak visited the disputed islands.
Trade between the countries fell to $87 billion from $105 billion in the same period. Japanese companies don't have a strong footprint in the South Korean market because of the dominance of the chaebol, or family run conglomerates such as Hyundai Motor Group and Samsung Group.
If South Korea's Supreme Court sides with the victims in the three cases, it is likely to hurt Japanese investment further, said Yang Kee Ho, a professor of Japanese studies at Sungkonghoe University in Seoul.
"Park and Abe were displaying showmanship when they had to on the anniversary, but nothing truly remains resolved between the two countries," Yang said by phone. "The forced labor issue presents another hurdle and will do little to help improve relations."
U.S. Stance
Signs of rapprochement between the two leaders are welcomed by the U.S., as it seeks to expand its presence in Asia to counter a more assertive China and the threat of North Korea's nuclear program. Still, Park has repeatedly said that Japan must do more to address the issue of the so-called comfort women before she can agree to a bilateral summit with Abe.
"Resolving the comfort women issue is not only important for the future of Korean-Japanese relations but it's also an issue of protecting women's rights in wartime," Park said Thursday in a meeting with a United Nations human rights delegation.
As Park pledged a new start on Monday, some comfort women threatened to file a $20 million lawsuit against Abe in San Francisco. This comes as diplomats work on a compromise over Japan's push to obtain UNESCO World Heritage status for 23 of its modern industrial sites, some of which used forced laborers from Korea.
Before it's here, it's on the Bloomberg Terminal.
LEARN MORE