Greece Could Tap Funds As Soon as Next Week If Deal Done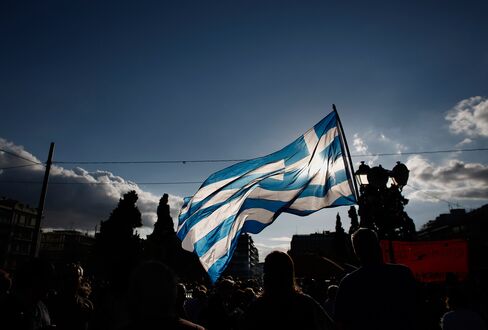 Greece could tap euro-area funds of as much as 3.35 billion euros ($3.75 billion) by early July if it can reach a deal with its creditors, thanks to profit-sharing pledges from member nations' central banks.
Euro-area finance ministers, who control disbursement of profits from the European Central Bank's Securities Market Program, are considering releasing some of the funds within days if Greece can seal an aid accord with international authorities, according to three officials.
Time is running out for Greece, which needs to resolve aid distribution before the European portion of its bailout expires and about 1.5 billion euros in payments come due to the International Monetary Fund on June 30. Prime Minister Alexis Tsipras will meet again with creditor institutions Thursday in Brussels in a last-ditch effort to clinch a deal that would avoid a possible default.
The SMP profits can be distributed quickly because ministers don't need approval from national parliaments, one of the officials said, who asked not to be identified because talks are ongoing. Instead, countries pass on their share of the profits to an account at the European Stability Mechanism, the euro-area's firewall fund, which can allocate them on to Greece when finance ministers give the word.
Even though the finance chiefs ultimately control the release of the funds, some nations, including Germany, have reservations about whether this would be the right strategy, another of the officials said.
Before June 30, 1.85 billion euros of 2014 profits are available if called on, one official said. On July 1, nations are due to transmit another 1.5 billion euros in 2015 profits; those funds would also become accessible if the Eurogroup wants to release them, the official said.
Greece got 1.5 billion in SMP profits in July 2013, according to a statement on the ESM's website.
Read this next:
Before it's here, it's on the Bloomberg Terminal.
LEARN MORE