Night of Discord Sees EU Reach Deal on Sharing Refugee Burden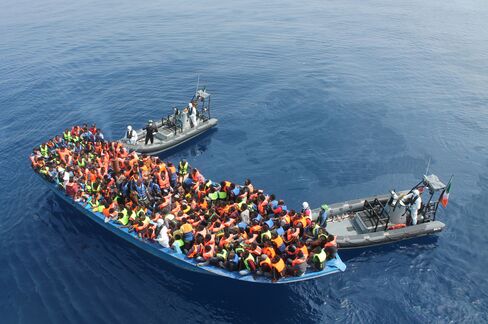 European leaders pledged to share the burden of refugees from across the Mediterranean after a night of heated haggling that saw an exasperated Italian Prime Minister Matteo Renzi brand his counterparts as not "worthy."
Leaders, with some exceptions, agreed after acrimonious discussions in Brussels to give refugee status to 40,000 asylum-seekers from Syria and Eritrea who reached Italy and Greece. The talks began over a working dinner Thursday and lasted until past 2 a.m.
Countries including the U.K., Denmark, Ireland and Hungary opted out, Maltese Prime Minister Joseph Muscat told reporters. The European Commission will work out numbers by the end of July.
Renzi, whose country along with Greece bears the brunt of the arrivals, exclaimed at one stage in the discussion: "If you don't agree on 40,000, you aren't worthy of calling yourselves Europe."
According to a participant, who could not be identified for policy reasons, Renzi added: "If this is your idea of Europe, you can keep it. Either there is solidarity, or you don't waste our time."
The issue of illegal migration into Europe came to a head after at least 700 people died when a rickety boat capsized off Libya in April. The surge in the number of people coming from north and eastern Africa has reached levels not seen since the early 1990s.
Civil war in Syria and chaos in Libya are in part behind the arrival of 60,000 migrants on Italian shores this year alone. Last year, 185,000 refugees were granted asylum in the EU.
'Pure Hypocrisy'
French President Francois Hollande was among those who called for twinning "solidarity" and "responsibility" in dealing with the migrants on his arrival in Brussels.
Sensing that his amended plan for "voluntary" burden-sharing might end up being further diluted, EU President Donald Tusk cautioned before the accord that it "cannot be an excuse to do nothing."
"I can understand those who want this voluntary mechanism, but they will only be credible if they give precise and significant pledges by the end of July at the latest, because solidarity without sacrifice is pure hypocrisy," Tusk said. Leaders in the end agreed to drop the word "voluntary."
Several EU states traded accusations. British Prime Minister David Cameron blamed Italy for doing too little to register and fingerprint migrants, many of whom travel on northwards.
Hungary hit back at criticism of its refusal to take in migrants, who Austria and 10 other EU countries plan to send back because they are undocumented. Hungarian Prime Minister Viktor Orban put the problem in stark terms.
'Plan B'
"The European welfare system is so attractive, especially the German one, that millions will embark on a journey here in the coming years if they think they have a chance of entering," he said. "There's only one solution. Every country needs to defend its borders. If we have help then together, if not then each country on its own."
Renzi has threatened to adopt a "Plan B" if his appeals fall on deaf ears, with possible options including granting travel permits to migrants who request asylum status, thus enabling them to cross into other EU countries.
EU foreign ministers earlier this week approved the dispatch of five warships, two submarines, three reconnaissance planes, three helicopters and two drones to monitor people-smugglers and help with rescues at sea.
Read this next:
Before it's here, it's on the Bloomberg Terminal.
LEARN MORE