China Tech Stock Boom Falters as Traders Shun Soaring Valuations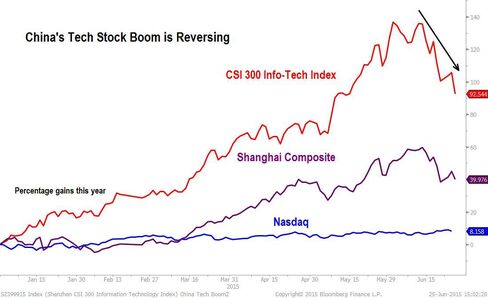 A rally in Chinese technology companies is reversing at the fastest pace in at least a year on concern valuations are too high relative to earnings growth.
The CSI 300 Information Technology Index has plunged 19 percent from its June 2 record, almost twice the 12 percent loss by the broader gauge. Even after the declines, the hi-tech measure trades at 74 times earnings, versus 31 times for the Nasdaq Composite Index in the U.S. The Chinese gauge sank 6.3 percent by the close Thursday, while the Shanghai Composite Index declined 3.5 percent.
"Technology stocks have gone too far and fast," Dai Ming, a fund manager at Hengsheng Asset Management Co., said in Shanghai. "Risk appetite for the stocks has fallen after prices rose to pretty expensive levels. The correction in the sector is likely to continue and the magnitude of declines may surprise investors."
The reversal in China's best performing stocks was inevitable to some investors, who increasingly saw the rally as a bubble. Janus Capital Group Inc.'s Bill Gross said June 3 shares in the tech-heavy Shenzhen market would become the next big trade for short sellers.
As technology shares retreat, mainland investors are starting to pick up cheaper, 'old economy' stocks including PetroChina Co. and Huadian Power International Corp.
Gauges tracking utility and energy companies have been among the best gainers on the CSI 300 Index this week, rising more than 3 percent, following last week's 13 percent plunge by the broader gauge. The technology measure is the worst performer in the period with a 4 percent drop.
Beijing Shiji Information Technology Co. has lost 31 percent since June 2, wiping out around $3.5 billion of value. The stock still trades at more than 100 times earnings. Leshi Internet Information & Technology (Beijing) Co. has plunged 28 percent in the period, paring its gain this year to 251 percent.
— With assistance by Shidong Zhang
Before it's here, it's on the Bloomberg Terminal.
LEARN MORE