Standard Chartered's Africa Crown Threatened by Egypt Loans Boom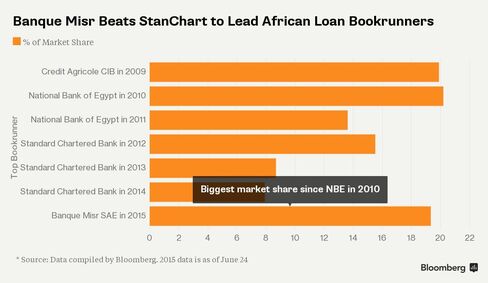 Standard Chartered Plc is facing a challenge for the title of Africa's top loan arranger from a local bank about 1/20th of its size.
While the London-based bank is used to playing catch-up in the second-half -- it's come from behind to top the table for three years running -- it's rarely been so far adrift. Egypt's Banque Misr SAE is the best performer, bookrunning for about $1.6 billion of loans, more than double second-placed Bank of China Ltd., according to data compiled by Bloomberg.
"Typically, we see African syndicated loan volumes stronger in the second half of each year, and we expect a similar trend will emerge in 2015," Daniel Berman, the Johannesburg-based head of capital markets for Africa at Standard Chartered, said by e-mail on Wednesday.
The London-based lender has made a series of senior management changes this year in a bid to reverse two years of declining profit and rebuild investor confidence. Part of the slowdown in African borrowing has been because of the Nigerian election, Berman said. The continent's loans market almost doubled during Standard Chartered's years of dominance to about $43 billion in 2014. The lender is now in joint last with seven other lenders.
Standard Chartered Chief Executive Officer Bill Winters is planning to shift capital to regional hubs in an overhaul aimed at reviving the bank and meeting new regulatory demands, the Financial Times reported on Thursday. The stock, having touched an almost six-year low in February, is up 10 percent this year, compared with a 5.1 percent advance for the FTSE All-Share Banks Index.
Egyptian Boost
State-owned Banque Misr has climbed the table as the economic policies of Egyptian President Abdel-Fattah El-Sisi spur lending. The most populous Arab country is relying on government-sponsored infrastructure spending to pull the economy out of its biggest slump in two decades.
More than 90 percent of Banque Misr's loans this year have gone to the Suez Canal Authority and Upper Egypt Electricity Production Co., both of which are also state-owned companies. The North African nation is investing more than $8 billion to dig a parallel channel to the Suez Canal in order to increase the number of passing ships and boost revenue.
"Some local players may have an edge in participating in certain projects," Nondas Nicolaides, a bank analyst at Moody's Investors Service, said by phone from Limassol, Cyprus, on Wednesday. "If there's a local borrower involved in a project and they have a relationship with that company, they would be in a better position compared to other regional banks looking to be part of the syndication."
Gulf Support
Egypt's economic output this year may jump to 4.2 percent, about double the average annual rate of growth since the uprising that ousted President Hosni Mubarak in 2011. Countries from the six-member Gulf Cooperation Council have provided billions of dollars in grants, loans and investments to help support El-Sisi's government.
Economic growth in Sub-Saharan Africa may slow to 4.2 percent this year from 4.6 percent in 2014, according to World Bank estimates released this month. As African central banks raise interest rates to combat inflation and economic growth shrinks, the second-half rally in lending activity may never come, according to London-based Capital Economics Ltd.
"We expect rapid credit growth in sub-Saharan Africa to cool-off this year as central banks raise interest rates," William Jackson, a London-based emerging markets economist at Capital Economics Ltd., said by phone Wednesday. "In Egypt, which benefits from low commodity prices, the economy is starting to stabilize and loan demand is increasing."
Before it's here, it's on the Bloomberg Terminal.
LEARN MORE