SGX Tallies Cost of Disruptions After Regulator's Reprimand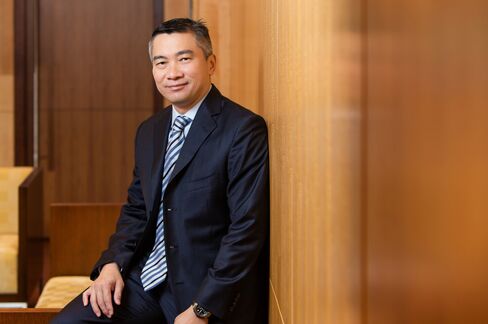 Singapore Exchange Ltd. will pay S$1 million ($743,000) into an education fund after two trading disruptions earned a reprimand from the city-state's regulator and a bar on raising fees until fixes are cleared.
"There will be a moratorium on fee increases for the securities and derivatives markets with immediate effect until the improvements are completed," the Monetary Authority of Singapore said on Wednesday after the exchange announced it will spend S$20 million to improve trading systems. "Following the discussion with MAS on the incidents, SGX has also decided to contribute S$1 million to its Investor Education Fund."
The twin breakdowns in November and December marred the stewardship of Southeast Asia's largest bourse by Chief Executive Officer Magnus Bocker, who's stepping down next week to make way for Loh Boon Chye, formerly Bank of America Corp.'s head of Asia-Pacific global markets. Loh, who assumes his role July 14, faces the challenge of reviving stock-trading volumes, which have lagged Hong Kong's. Bocker issued a public apology after the incidents, which disrupted trade for several hours.
"Financial institutions have the responsibility to ensure the resilience of their technological systems," MAS Deputy Managing Director Ong Chong Tee said in a statement. "MAS takes a serious view of the incidents and will require SGX to improve its technology risk management."
SGX shares climbed 1.3 percent to close at S$7.94 on Thursday, erasing a loss of as much as 0.6 percent. The company reported profit increased 16 percent to S$88.2 million in the quarter to March as revenue from derivatives jumped.
Fee Moratorium
While the SGX met an obligation to maintain orderly markets, it fell below service-recovery standards, the regulator said. Until the remedial measures are verified by an independent expert and the MAS is satisfied, SGX won't raise fees, it said.
"There shouldn't be a huge impact from the fee-increase moratorium," said Bernard Aw, a strategist at IG Ltd. in Singapore. "While moves to beef up SGX's IT infrastructure should help to minimize future disruptions and restore investor confidence in the market, SGX needs to address the bigger problem of low equities trading volume."
Average daily turnover on the Singapore bourse was $864 million this year through Thursday, little changed from a year earlier, according to data compiled by Bloomberg. That compares with Hong Kong, where trading almost doubled to $16 billion.
More Complex
The Nov. 5 failure disrupted trade for 144 minutes and prompted the formation of a committee of inquiry. It was followed a month later by the second disruption as a software error caused the exchange to delay trade more than three hours.
Some of the world's biggest exchanges suffered from disruptions last year, including Deutsche Boerse AG's Xetra platform. As technology is getting more complex, it's important for SGX to design systems that are as robust as possible, Quah Wee Ghee, head of the independent investigation committee into the failures, said at a briefing in Singapore on Wednesday.
"SGX has recognized the seriousness and severity of the incident," Chairman Chew Choon Seng said. "We've taken measures to minimize such incidents from recurring. With the adoption of the committee's recommendations, we are confident that SGX infrastructure will be more resilient."
The exchange said November's outage was caused by a faulty component at a backup-power supply equipment in a data center operated by a third party. It accepted responsibility for the disruption and pledged to strengthen technology systems.
"The disruption is very bad for the reputation of SGX as it struggles to revive stock-trading volumes," said Ernest Lim, a trader at CIMB Group Holdings Bhd. in Singapore. "They should have robust backup systems to minimize future disruptions."
Before it's here, it's on the Bloomberg Terminal.
LEARN MORE