Quebec Becomes Latest Hurdle to Canada's Plans for Oil Exports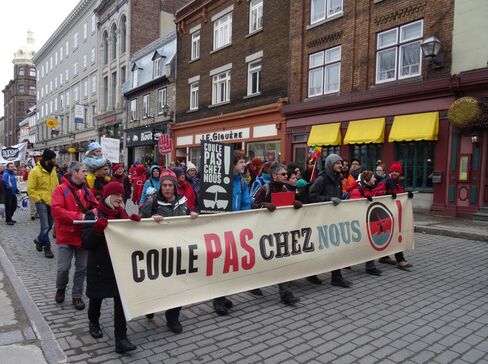 Across Quebec, cardboard signs are popping up on lawns depicting a broken pipe gushing black crude. "Don't flow near us," they warn in French.
That sums up Benoit Pigeon's feelings about TransCanada Corp.'s proposed C$12 billion ($9.7 billion) pipeline that would traverse the province on its way to connect Alberta oil-sands fields with the Atlantic Coast. In addition to his yard sign, Pigeon has marched with street protesters and helped rally opposition to the project on Facebook.
"This investment should be in renewable energy instead," Pigeon, 51, said in an interview at his home.
For a resource-rich nation eager to expand crude exports from the oil sands, Canada has been striking out lately. TransCanada's Energy East marks the fourth time this decade an oil-sands pipeline has been mired in environmental opposition. Keystone XL, which would bring oil to the Gulf Coast, remains bogged down in U.S. politics for a seventh year. And protests and lawsuits are hobbling two lines that would carry crude to the Pacific Coast.
Quebec has frustrated the fossil fuel industry before, imposing a ban on shale drilling in 2012. Now resistance is building in the province where the majority of the construction on the 4,600-kilometer (2,900-mile) pipeline would take place.
Energy East was supposed to be easier. It largely involves converting an existing natural gas line to oil, with a route that doesn't cross an international border. Quebec, which currently ships imported oil up the St. Lawrence River to two refineries, would gain access to new supplies -- and the possibility of becoming, along with neighboring New Brunswick, an export hub.
'Nation Building'
"We look at it as a nation-building initiative," said Donald Arseneault, New Brunswick's energy and mines minister, who's trying to persuade his Quebec counterpart of the project's merit. "Quebeckers are people that, probably more than anyone else in the country, are concerned about their environment."
The environmental movement is strong in the French-speaking province, which relies on hydropower for more than 95 percent of its electricity. Quebec Premier Philippe Couillard has said he looks favorably on the line. But he has set seven conditions for the province's support and given no deadline for a decision.
In a poll conducted by researchers at the Universite de Montreal last November, 50 percent of Quebeckers opposed the project and 33 percent voiced support -- the exact opposite of national results.
'Uphill Battle'
"It's clearly an uphill battle for TransCanada in Quebec," said Erick Lachapelle, an assistant professor of political science who worked on the survey.
Energy East backers in the province, including business and labor groups, want its refineries to benefit from access to cheaper crude from Western Canada.
The mayor of Cacouna, 200 kilometers down river from Quebec City, laments the loss of about 50 potential jobs tied to a marine terminal TransCanada had planned as part of the project. Faced with concerns the facility might threaten an endangered population of local Beluga whales, TransCanada scrapped plans to build in Cacouna in April.
Wildlife Preserve
The St. Lawrence River, traversed as far back as the 1500s by French explorers, has emerged as a focal point of dissent. The pipeline would pass through a wildlife preserve of mud flats along the migration route of 200 species of birds, a spot where 17 unique species of flowers grow. It would then tunnel below the river near a drinking water intake for Quebec City.
"It's almost the worst place to put a pipeline," said Jacques Anctil, the president of a nonprofit organization that owns the preserve.
In meetings with residents, TransCanada has emphasized local jobs and community payments that would come with the project. Oil spills are rare and TransCanada said it would clean up and compensate in a worst-case scenario. "Once we get the facts into people's hands, the communities then become supportive," Chief Executive Officer Russ Girling said.
There's no financial compensation that would make Lanoraie farmers Gaetan Roy, Sophie Belisle and Rejean Beauparlant support the line, they said in interviews. The agricultural town is among more than 50 Quebec communities that have issued resolutions opposing the project, according to environmental group Equiterre.
As with the Keystone debate, protesters are linking the project to climate change, saying use of oil-sands crude will contribute to higher greenhouse-gas emissions. About 25,000 protesters showed up for a climate march in Quebec City on April 11, double what organizers expected. "'Yes' to climate equals 'No' to tar sands," was the message on banners.
"Every time we move, the activists that want to keep the oil in the ground get out there in front of us," Girling said. "There's just a lot of misinformation out there."
Before it's here, it's on the Bloomberg Terminal.
LEARN MORE