Macquarie: Chinese Margin Debt Has Much, Much More Room to Run
China's margin debt could reach 3 trillion yuan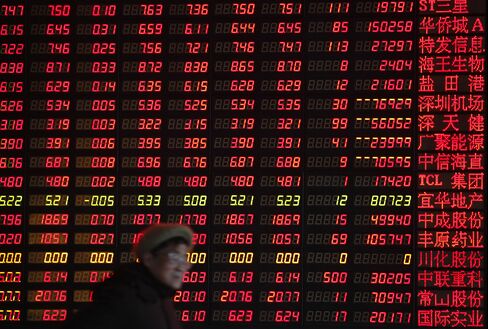 Margin debt in China has been on a tear as the Shanghai Composite Index surged nearly 130 percent this year.
With that, margin trading has jumped thirtyfold over the past three years on the city's stock exchange, as investors borrowed money to buy securities.
But when the index fell 13 percent last week, so did margin debt. Also adding to the decline has been increasing pressure from Chinese regulators.
Despite this turn of events, analysts at Macquarie Research say this is not a reversal in the longer-term trend. Here's what a team led by Matthew Smith had to say:
The market's performance in the week leading up to the Dragon Boat holiday weekend raises questions about whether or not a short-term correction is already underway. It's entirely possible but we think that expectations of a significant and sharp reversal of margin positions may prove to be wrong.
The analysts have been tracking China's outstanding margin debt for some time. They reckon that Chinese margin debt has risen 123 percent year-to-date, reaching a new record of 2.3 trillion yuan ($370 billion) on June 18.
The team has updated its charts, which continue to show the staggering increase over the past couple of years. Here are two that stood out:
The first is margin debt as a percentage of total market value of Chinese stocks.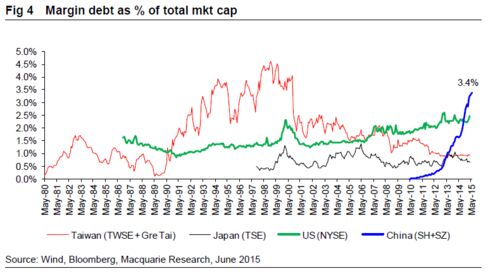 The second is margin debt as a percentage of estimated free float—the stocks that aren't locked up by the Chinese state.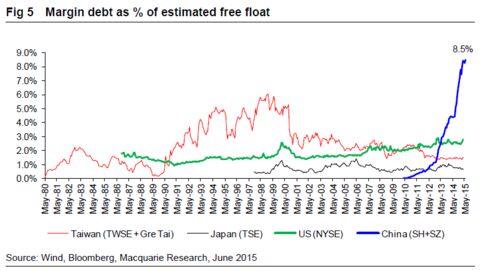 So when might margin debt start declining for a longer period of time? Smith and his team placed that time at early this fall, following a move higher for now:
Moreover, we believe that the brokers should have enough capital available to push margin lending higher from here. We think that the peak should be somewhere around RMB 3 trillion and at the current run rate (ie +16% month-on-month) the market would reach that level around September. However, we wouldn't want to create an appearance of extreme confidence in our own guesstimate of peak margin levels and the timing for when the market will get there.
Before it's here, it's on the Bloomberg Terminal.
LEARN MORE