In China Buyout Boom, One Man Stakes Claim as King of Rainmakers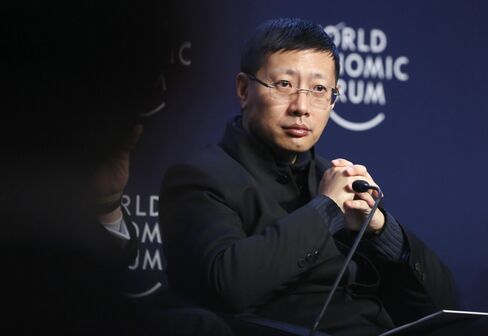 In this month's $19 billion buyout frenzy of Chinese companies listed abroad, one man may hold the key to figuring what's next.
Neil Shen, the billionaire co-founder of Sequoia Capital China, is leading the charge among venture capitalists and private equity firms to scoop up companies listed in the U.S. and ultimately take them public in the mainland, where a surging stock market means shares are being afforded higher multiples. Shen and Sequoia have targeted at least five companies for takeovers this month.
Alternative asset managers are focusing on companies they already hold and on which they also have board positions as they race to complete their due diligence, line up management and arrange buyout groups. Companies from online retailer Jumei International Holding Ltd., in which Sequoia owns a more than 15 percent stake, to online bookmaker 500.com may be the next takeover targets, according to China International Capital Corp.
"Sequoia is a big player in entrepreneurial Chinese companies," Paul Gillis, a professor at the Guanghua School of Management at China's Peking University, said by e-mail. "There is a real opportunity right now for U.S. listed Chinese companies to seek higher values on the Chinese exchanges. PE firms are providing the brainpower for these privatization and relisting deals."
Momo, Qihoo
Takeover bids this year, including Tuesday's offer for social-networking platform Momo Inc. from Sequoia, venture firm Matrix Partners China, Huatai Ruilian Fund Management Co. and co-founder Yan Tang, have been 23 percent above companies' average 30-day trading price prior to their announcements, according to data compiled by Bloomberg.
Other takeover proposals that Shen and Sequoia have participated in this month include a $770 million bid for real estate services company E-House (China) Holdings Ltd., a $1.1 billion offer for hotel chain operator Homeinns Hotel Group, a $586 million going-private proposal for Bona Film Group Ltd., and an $8.4 billion bid for Qihoo 360 Technology Co., operator of China's second-largest search engine.
Shen co-founded Sequoia Capital China, a local franchise of its Menlo Park, California-based namesake, in 2005, six years after starting online travel giant Ctrip.com International Ltd. His success has made him one of China's richest men, according to Forbes.
Yang Yanan, a Beijing-based spokeswoman for Sequoia, didn't respond to telephone requests seeking comment on the firm's investment plans.
Future Targets
Sequoia is the biggest publicly disclosed stakeholder of Beijing-based Jumei, which has a market capitalization of $3.4 billion. The stock is little changed over the past year as securities listed in Shanghai have jumped about 130 percent and those listed in Shenzhen have surged 164 percent.
"There is a huge valuation discrepancy between U.S. and A shares so ideally Sequoia believes there is arbitrage opportunity here," Henry Guo, a San Francisco-based analyst at Summit Research Partners, said in an e-mail.
Companies in a Bloomberg gauge of Chinese companies listed in the U.S. trade at about 10 times earnings, compared with a ratio of 24 for firms in the Shanghai Composite Index and 70 times for Shenzhen-listed stocks.
Sequoia also holds stakes of approximately 10 percent in 500.com, which has seen its stock tumble 22 percent over the past year, and Internet-based travel agency Tuniu Corp.
Shen, who sat on the boards of E-House, Homeinns, Qihoo and Momo, is formerly the chairman of online apparel company Mecox Lane Ltd., which listed in the U.S. in 2010.
Relisting Plans
He remains on the board of Ctrip.com, which he helped found in 1999. The $10.4 billion company was part of the buyer group for Homeinns earlier this month.
Recent takeover bids may take more than six months to complete as companies form special committees to evaluate proposals, engage outside counsel, and potentially consider other bids, according to a June 23 report from Mizuho Securities Asia Ltd. analysts Jin Yoon and Miranda Zhuang. YY Inc., Youku Tudou Inc. and SouFun Holdings Ltd. may be part of the next wave of takeovers, the analysts said.
"I expect the majority of U.S. listed Chinese companies will do privatizations with the intent to relist in China in the next year," Gillis said. "It's a classic private equity opportunity."
(An earlier version of this story was corrected to show Shen is the former chairman of Mecox Lane.)
Before it's here, it's on the Bloomberg Terminal.
LEARN MORE