As demand for U.S. rental housing surges, it's not just millennials driving the trend.
Households between the ages of 45 and 64 accounted for about twice the share of renter growth as those younger than 35, according to a new Harvard Joint Center for Housing Studies report. In part, that's unsurprising: It's a larger age group of adults. What is unexpected is that those older households are historically more likely to own, yet the 55 to 64 age group counted for a larger share of rental growth than any other age group between 2004 to 2014.
What's more, households in the upper half of the nation's income distribution -- also more likely to buy a house -- contributed 43 percent of the growth in renters between 2004 to 2014, the report shows.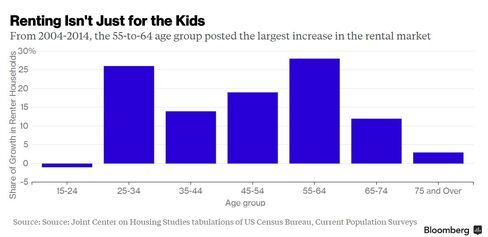 The report documents a shift toward renting and away from owning that's partly a legacy of the Great Recession. Economists are predicting that strong demand for rental housing could persist, keeping prices high until supply catches up. As the job market improves and boosts millennials -- the age group younger than about 35 -- more may strike out into the world, adding extra fuel to the rental market.
"With no signs of a slowdown in renter household growth, rental markets are likely to remain tight in the near term," according to the Joint Center report.
Household formation, the addition of new occupied housing units, has been slow in recent years as young people crashed at mom and dad's. That could be changing -- formation picked up in the final quarter of 2014 and remained higher at the start of this year. Meanwhile, home ownership has continued to decline, dropping to a seasonally adjusted 63.8 percent in the first quarter. That's down from 68.5 percent in the first quarter 2007, before the latest recession began.
Rental household growth, by contrast, has averaged 770,000 households annually over the past decade, the report states. That demand is tightening supply: Vacancy rates dipped to 7.1 percent in the first quarter of 2015, down from 8.3 percent a year earlier and near the lowest level in two decades. Rent for urban consumers climbed 3.5 percent in the year through May, Consumer Price Index data show, after increasing 3.1 percent in the same period a year earlier.
The Joint Center isn't alone in projecting that the rental market will stay hot. In a report earlier this month, economists at the Urban Institute in Washington projected that a rental surge is coming: about 59 percent of the 22 million new households that will form between 2010 and 2030 will rent, they project, while just 41 percent will buy their homes. That means renters will account for 39 percent of all households in 2030, up from 35 percent in 1990.
For more on the global economy, check out Benchmark:
Before it's here, it's on the Bloomberg Terminal.
LEARN MORE