Tsipras Party Members Voice Reservations Over Funding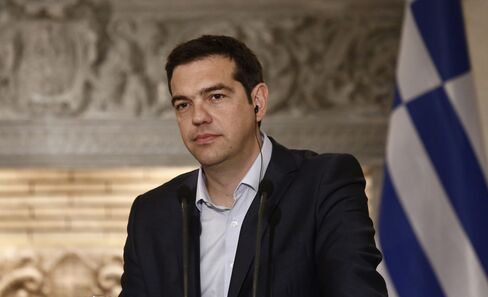 Greek Prime Minister Alexis Tsipras is facing the first signs of dissent within his own party over his latest plan to end a five-month standoff with creditors.
Some of Syriza's more radical and populist lawmakers expressed opposition Tuesday to the proposal as the deal's backers called on members to see the bigger picture.
"Personally, I cannot support such an agreement that is contrary to our election promises," Dimitris Kodelas, a Syriza lawmaker associated with former Maoists, said in an interview. "I do not care about the consequences of my decision."
Tsipras is trying to ensure his coalition will back the 8 billion euros ($8.94 billion) of new measures outlined Monday that include eliminating early retirement options, raising the sales tax, increasing taxes on middle- and high-income earners and introducing a new levy for companies with annual profit of more than 500,000 euros. Syriza holds 149 seats in the 300-member parliament, and governs with the support of a fringe anti-austerity party called the Independent Greeks.
Tsipras's hope is that most Syriza members will be assuaged by the revised plan because it focuses on tax increases for companies and high-income individuals instead of spending cuts, even as he asks them to support an agreement that runs against his party's pledge to end austerity.
Eleni Sotiriou, a Syriza member of parliament, posted on Facebook that the proposals "cannot be supported."
Winning Backing
Most of the prime minister's attention will be focused on winning the support of a group known as the Left Platform, a faction that holds about 40 seats in parliament and is composed of former communists and others closely aligned with labor unions. Many of them advocate positions that include unilateral debt default and a euro exit.
"I hope and wish we'll have a positive result which means getting a deal that gives the country prospects and the ability to breathe," Energy Minister Panagiotis Lafazanis, who leads the group, said in an interview on Tuesday. "We'll judge the agreement, as soon as there is one, by its result and the measures it contains."
Tsipras still holds considerable sway in the party, and has the direct backing of about 100 members of parliament referred to by insiders as the "presidentials."
While acknowledging the proposals violated electoral pledges, Syriza lawmaker Makis Balaouras said party members must look at the bigger picture and determine whether there are gains such as "the prospect of debt sustainability" in gauging whether to support the plan.
Trump Card
Tsipras also holds a trump card in his ability to call early elections. Under Greek law, if a new vote is held less than 18 months after the last election, party leaders determine who's on electoral lists. That gives him the power to keep dissenters from being re-elected. It's a possibility the government hinted at Tuesday as it sought to shore up support.
"If it doesn't have the parliamentary majority with it, then it can't remain a government," Gabriel Sakellaridis, Tsipras's spokesman, said in an interview with Mega TV.
European leaders said at an emergency summit Monday in Brussels that Tsipras is finally getting serious after being criticized for lacking good faith in earlier talks. At the meeting, they agreed to step up the pace of negotiations to secure a breakthrough that leaders can sign off at the end of the week when they meet for an already scheduled gathering.
The possible deal got a resounding endorsement from Greece's markets with government bonds and stocks rallying for the second day. The Athens Stock Exchange Index closed 6.1 percent higher, after surging 9 percent on Monday. The yield on the 2-year bond fell 329 basis points to 21 percent.
Possible Defections
Any substantial defections requiring the support of major opposition party New Democracy would open up the possibility of broader changes to the government or a referendum, George Saravelos, a Deutsche Bank AG analyst, wrote in a note to clients. Saravelos calculates that between 10 and 40 Syriza lawmakers could dissent based on local media reports. Getting the support of New Democracy could be a challenge given the party's pro-business stance and the proposed new corporate tax.
Tsipras "has to explain to the people why we failed," Alexios Mitropoulos, deputy speaker of the parliament and a Syriza lawmaker said Tuesday on Mega TV. "After five months of negotiations, I consider that, at the very least, the negotiation didn't succeed."
Before it's here, it's on the Bloomberg Terminal.
LEARN MORE