Stonewall Inn, Gay-Rights Protest Site, Made NYC Landmark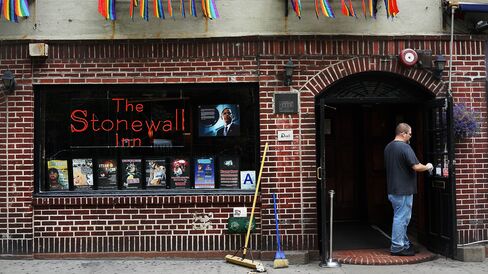 The Stonewall Inn, the site of the riots 46 years ago that sparked the modern gay-rights movement, became a New York City landmark Tuesday.
The vote by the Landmarks Preservation Committee closes a loophole that might have allowed a redevelopment or demolition of the bar at 51-53 Christopher St., where a police raid on June 28, 1969, led to six days of sometimes-violent protests, the first major uprising against law enforcement harassment of gay men and women.
While the site's location in the Greenwich Village Historic District required that any changes to the building be approved by the landmarks panel, that designation was made two months before the demonstrations. The site's social significance wasn't included in any reports commissioners use to approve or deny alterations, according to Andrew Berman, executive director for the Greenwich Village Society for Historic Preservation.
"Specific things that we want to make sure are protected are not noted, and potentially one could interpret the building as not being an important building," Berman said in an interview before the vote.
Testimony in support of landmark status focused on the historical impact of the events at the bar.
"To me, the Stonewall Inn represents what Selma represents to the civil rights movement and what Seneca Falls represents to the women's rights movement," New York City Public Advocate Letitia James said before the commission. "It must be protected from rapacious developers who would destroy the history and what this place represents."
LGBT Acceptance
Psychologist Gil Horowitz, who was arrested on the second night of the demonstrations, said he was elated by the decision. The designation shows how far acceptance of lesbian, gay, bisexual and transgender people had come.
"I knew, as a psychologist, that being LGBT was like having red hair or being left-handed," he said after the vote. "This is confirmation that I was right all along."
The Stonewall Inn was added to the New York state and national registers of historic places in 1999 and the following year was made a National Historic Landmark, two largely symbolic distinctions. Today, a gay bar of the same name with different owners occupies the space at 53 Christopher St., with QQ Nails and Spa in the other half of the original space.
Before it's here, it's on the Bloomberg Terminal.
LEARN MORE