World's Lowest Debt-to-GDP Ratio Seen Aiding Saudi Debt Sales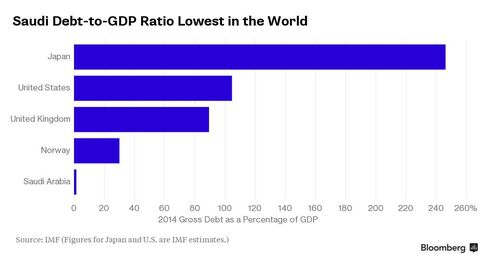 Saudi Arabia has the world's lowest debt to economic output ratio -- for now.
With oil prices tumbling and the kingdom burning through currency reserves at a record pace, economists from Bank of America Merrill Lynch to Abu Dhabi Commercial Bank PJSC expect authorities to start raising money through the local bond market to cover a widening budget deficit.
The potential sales will help create a benchmark for corporate borrowers. They may also be a boon for investment bankers after bond issuances in the six-nation Gulf Cooperation Council dropped by 34 percent this year to $15.2 billion, data compiled by Bloomberg show.
"At the moment, they're tapping their reserves and it's certainly something you could see coming," said Monica Malik, chief economist at ADCB in Abu Dhabi. "You'd expect a gradual build-up in debt."
The world's biggest oil exporter hasn't sold securities with a maturity of more than 12 months for eight years as it used the windfall from crude exports to slash its debt to gross domestic product ratio to less than 2 percent.
Government-linked agencies and companies typically tap the Shariah-compliant debt market. Sales are likely to be denominated in local currency, Malik said.
Pension Funds
"Saudi Arabia does have an advantage over many regional peers in that they have large domestic institutional investors that could support debt markets," said Mohieddine Kronfol, the Dubai-based chief investment officer for global sukuk and MENA fixed-income at Franklin Templeton Investments Ltd. "They have pension funds, insurance companies and large family offices."
The International Monetary Fund estimates that the kingdom's budget deficit will widen to about 20 percent of economic output this year after King Salman ordered a two-month bonus for public-sector workers and pensioners.
The government is pressing ahead with an investment program to boost non-oil GDP growth. Military spending is likely to rise as the kingdom leads airstrikes against Shiite rebels in Yemen.
For now, the government is financing its budget shortfall by drawing down its deposits at the central bank, accelerating the decline in currency reserves. Net foreign assets dropped more than $11 billion in April, taking their three-month plunge to more than $45 billion -- about 7 percent of the total.
Officials haven't announced plans to tap the bond market.
If the kingdom chose to tap the international sukuk market, the sale will be very "well received" by investors, Abdul K. Hussain, chief executive officer of Mashreq Capital DIFC Ltd, said by phone from Dubai. The kingdom is rated AA- at Standard & Poor's, the fourth-highest investment grade.
The yield on Saudi Electricity's Islamic bonds due 2022 fell 8 basis points last week to 3.173 percent, according to data compiled by Bloomberg.
"They have a very strong credit rating, very little external debt," said Hussain. "You could not get a stronger profile in the neighborhood."
Before it's here, it's on the Bloomberg Terminal.
LEARN MORE