Brazil Auditors May Reject Government's Accounts For the First Time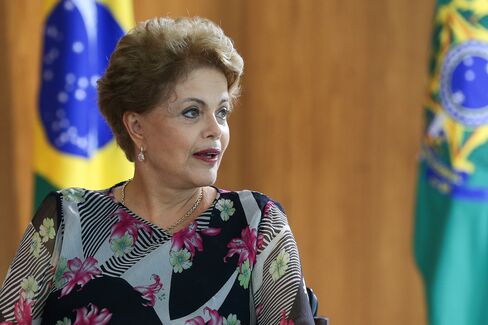 The majority of Brazil's audit agency currently favors a recommendation to reject President Dilma Rousseff's fiscal accounts, according to a person with direct knowledge of the matter.
The agency, known as the TCU, last week decided to give Rousseff until July 23 to explain budget practices that it says violate the fiscal-responsibility law. A TCU member will then offer a new recommendation, which the agency's nine members will approve or amend before sending to Congress.
The agency has never recommended lawmakers reject government finances. A rejection would deal a new blow to a leader reeling from a corruption scandal at state-run oil company Petrobras and a cratering economy. The report could even rekindle calls among opposition lawmakers to start impeachment proceedings.
While there's public pressure to hold the president accountable, over the next month the government may try to sway members of the TCU in Rousseff's favor given the implications of rejecting fiscal accounts, said the person, who asked not to be named when speaking about future votes.
The government's 2014 accounts "aren't in any condition to be approved by this court, owing to irregularities," according to last week's TCU agreement that gave her 30 days to offer an explanation. It was the first time the agency had held a president personally responsible.
The alleged violations of the fiscal-responsibility law occurred last year when the government said it would meet its budget goal without cutting the costs that would have made that possible. The TCU is also investigating payment delays to public banks for social programs, seeking answers from current and former government officials.
Impeachment Proceedings
The TCU is responsible for auditing federal spending and accounts. It is made up of six members chosen by Congress plus three selected by the president, upon approval by the Senate.
Some of the fiscal maneuvers examined by the TCU are related to decrees signed by Rousseff herself.
Justice Minister Jose Cardozo said in an interview after the TCU gave Rousseff a month to respond that he's confident the agency will accept her arguments and sign off on fiscal accounts. Even if that doesn't occur and Congress approves the report, the government can appeal to the Supreme Court, he said.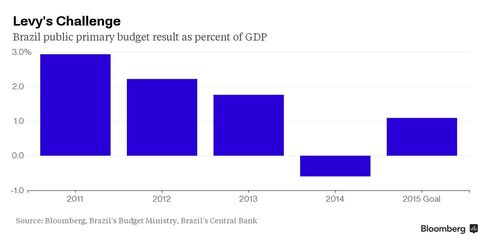 Cardozo denied allegations the government broke the law.
Brazil's government last year posted a deficit of 22.5 billion reais ($7.3 billion) before accounting for interest payments, or 0.4 percent of gross domestic product, according to central bank data cited by the TCU. Finance Minister Joaquim Levy, who took office this year, pledges to post a primary surplus in 2015.
A Datafolha poll published over the weekend showed Rousseff's approval rating fell to 10 percent, the lowest of any Brazilian leader since 1992.
Before it's here, it's on the Bloomberg Terminal.
LEARN MORE