Mexico to Overtake Russia by 2050 as U.S. Slides
China, the U.S. and India will be top three economies, according to forecasts by the Economist Intelligence Unit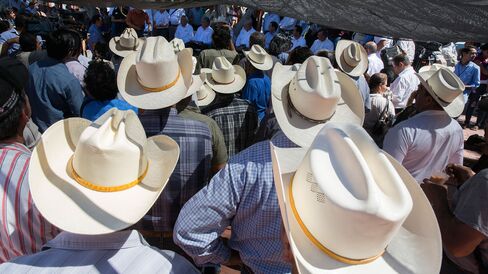 Mexico and Indonesia will displace Russia and Italy among the top 10 economies in just 35 years' time, with China, the U.S. and India taking the top three slots, according to forecasts by the Economist Intelligence Unit.
The world's most populous nation will overtake the U.S. as early as 2026 in nominal gross domestic product in dollar terms. India and China will each be richer than the next five nations -- Indonesia, Germany, Japan, Brazil, and the U.K. -- combined, representing "a scale of wealth relative to the rest of the top ten that is unique in recorded history," according to the EIU.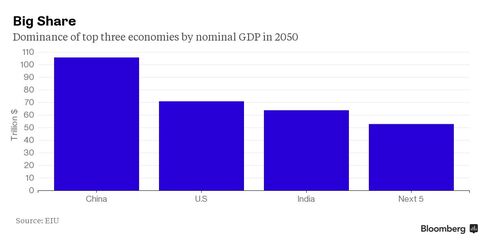 In terms of per capita incomes, China is projected to almost catch Japan by 2050, and be just under half the U.S. level from 14 percent in 2014. India's spending power will surge to about 24 percent of the U.S. consumer from just 3 percent, the EIU said. Asia will account for 53 percent of global gross domestic product by 2050, with Europe's share declining, according to the EIU.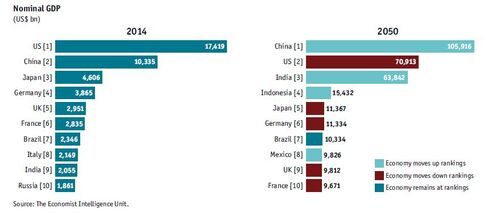 But for increases in working-age populations, you'd need to look to Africa and the Middle East. Much of Europe and East Asia will record a decline in their labor force, with fast-aging Japan seeing the biggest drop of more than 25 percent. China and South Korea may see a 17 percent to 18 percent contraction in their labor forces, while Greece, Portugal and Germany are forecast to fall by more than a fifth, the EIU said.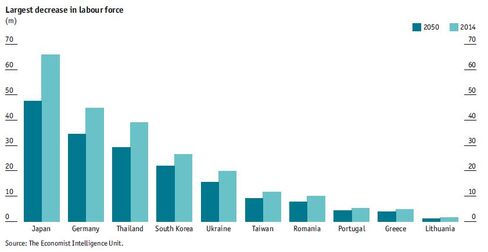 The two Asian giants' massive increase in economic power should come with greater political clout.
"Given China's and India's economic might, they will take on a much bigger role in addressing global issues such as climate change, international security and global economic governance," the EIU said. "In the medium term, this will require the world's existing powers — notably the U.S. — to let India, and especially China, play a greater role on the world stage and adapt international institutions to allow them to exert greater influence."
For more on the global economy, check out Benchmark:
Before it's here, it's on the Bloomberg Terminal.
LEARN MORE