On Tuesday, the Bank of Greece released its balance sheet to the end of May 2015.
We used this Bank of Greece data in March to show the extent of cash withdrawals from Greek banks—a cash in the mattress indicator, if you will.
With today's numbers, we can update our charts.
First, banknotes in circulation shows the Bank of Greece's allocation of all euro banknotes produced according to its capital share of the eurosystem. The growth in that number continues to be smooth—no cause for alarm.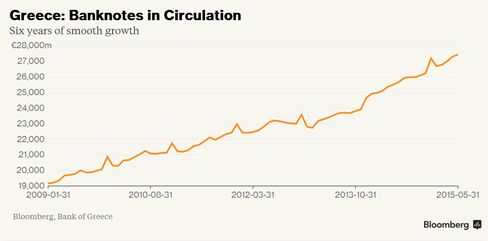 This item on the Bank of Greece balance sheet does not take account of any additional banknote needs of the Greek banking system.
For that, we have to look to what is reported as "net liabilities related to the allocation of euro banknotes within the Eurosystem" on the balance sheet. Charting that number, we get this much more volatile series.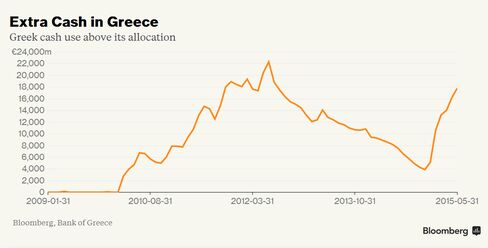 This extra cash was zero before the Greek crisis started in 2009, climbed above €22 billion ($24.6 billion) in the months leading to the 2012 Greek political crisis, and had been falling steadily since.
Until December of last year, that is, when the Greek political crisis reemerged, following the collapse of the Samaras administration. In the subsequent six months, it has grown, by €14 billion, to €17.8 billion.
To determine the amount of cash in Greece, we have to add together the totals in both of the above graphs, giving us this chart.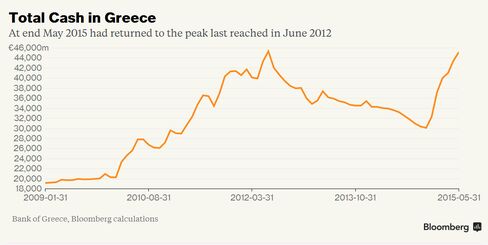 This data, which run only to the end of May and therefore do not take into account the deterioration in Greece over the past few weeks, shows that cash in the Greek economy has returned the level it attained at the height of the 2012 political crisis in Greece.
Before it's here, it's on the Bloomberg Terminal.
LEARN MORE