Welcome to Egypt's Fake Weddings: Get High, Leave Lots of Cash
To modernize Egypt, President Sisi will have to find a way to tax the country's vast informal economy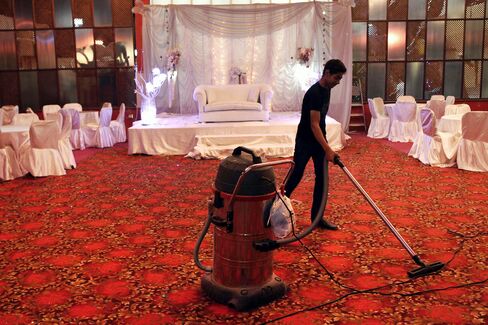 By the time the booze was drunk, the hashish smoked and the five belly dancers had concluded their gyrations, the groom had collected $16,000 – a "profitable wedding," in his words.
His bride wasn't there. No matter . "Some people hold weddings to celebrate, others do it as a business," said the groom, Mohammed, a used-furniture salesman. For Mohammed, the party was one of an ongoing series of fundraising events put on by his community group, a collection of hundreds of friends and relatives. One day he gives money to a fellow member. On another he is the recipient.
It is all part of Egypt's vast informal economy, one that accounts for an estimated 40 percent or more of the country's gross domestic product. With a quarter of this nation of 87 million living in poverty, street weddings like Mohammed's, along with a slew of similar schemes, offer Egyptians who rarely set foot in a bank a chance to secure funds.
Raising money through group events comes from a traditional collective savings arrangement that Egyptians – and others across the developing world – have used for years. The weddings are sometimes real and those who attend bring cash to help launch the young couple on their new life.
At other times, wedding-like parties without an actual ceremony pop up as a means of mutual funding. The most common form, however, is when family and friends hold money collectives without celebrations. All three kinds continue to thrive.
Budget Gap
Bringing such transactions into the formal sphere is a key challenge for President Abdel-Fattah El-Sisi as he seeks to broaden the tax base, trim one of the region's most bloated budget deficits and revive an economy battered by years of political unrest in the wake of Hosni Mubarak's 2011 ouster.
It is not easy.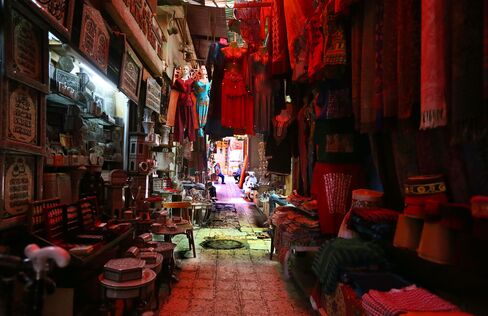 "Dealing with banks carries a lot of requirements that do not fit the nature of the Egyptian economy," said Faika El-Refaie, former undersecretary of the Central Bank of Egypt. "The majority of people have very low incomes while those who make decent money don't have documentation for it."
Mohammed falls into the second category. His furniture business does well but is run out of an apartment and he doesn't pay taxes. His one attempt at securing a bank loan failed because the bank wanted collateral and the interest rate was prohibitive. He tapped his network of family and friends.
On entering the vast pavilion set up on the closed-off street for the wedding, Mohammed's guests were given flamboyant salutes by the MC.
After a sampling of delicacies, each climbed on stage to make his contribution in cash. Two of Mohammed's associates counted the money and registered it in a notebook.
The system is based on personal connections and trust. If Mohammed doesn't later contribute to those who came to his wedding, his reputation will be damaged – if not worse. "People can get killed," he said of those who who fail to pay.
Suez Canal
The amount of cash outside Egypt's banking system was demonstrated last year when the government sold 64 billion pounds in local certificates of deposits to finance a parallel Suez Canal. About 42 percent of the amount was raised from "under the floor tiles," Central Bank Governor Hisham Ramez said at the time.
The certificates' high interest rate – 12 percent – may have spurred people to sell property and other assets, El-Refaie said. Yet, a "good amount must have come from people who did not see any benefit from holding a bank account in the first place," she added.
The money mostly goes to purchases. There are only 2.5 million credit cards and 7,300 ATMs in Egypt, according to central bank data.
Egyptian banks prefer lending to big companies, a tiny slice of the society. After the 2011 uprising, the government began borrowing heavily from local banks to cover its growing budget deficit. That meant the loans-to-deposits ratio across all banks fell from 50 percent in 2011 to 41 percent in 2014.
Real Wedding
The informal economy covers huge stretches of society. It includes street vendors who sell everything from pepper sprays to bedsheets as well as rickshaws ferrying passengers along Cairo's slums. It extends even to listed companies, according to Amr Adly, a scholar at the Carnegie Middle East Center.
In construction, for example, the biggest companies do most of their work through cash-based subcontracting to small and medium enterprises, Adly said. A study by the International Labor Organization estimated that 90 percent of employed Egyptian youths work in the informal sector.
In such an environment, arrangements like Mohammed's wedding are sometime the best way not only to survive, but also to get ahead. Until that changes, economists suspect that real growth will be stymied although neighborly relations will stay strong.
"Banks and these kinds of things are not for us," Mohammed said. "What's important is people's love. If people know and trust you, you can raise all the money you want."
Mohammed held his real wedding days later in front of a small group of friends and family. The bride this time was in attendance.
Before it's here, it's on the Bloomberg Terminal.
LEARN MORE