Cancer Therapy Boosts Appeal of Juno, Kite as Targets: Real M&A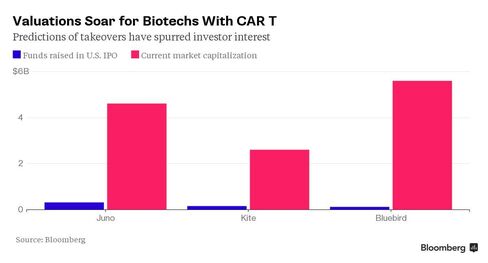 Amid a frenzy of biotechnology acquisitions, a clutch of companies working on a revolutionary cancer treatment have yet to be snatched up. That may be only a matter of time.
Juno Therapeutics Inc., Kite Pharma Inc., Bluebird Bio Inc. and Cellectis SA are among firms working on CAR T, a gene therapy that supercharges the immune system. They may prove enticing to large drugmakers, even if questions persist about whether promising results from small trials can be widely replicated.
"Big pharma companies such as Pfizer, Merck, Roche and AstraZeneca are closely watching the firms developing CAR T and getting ready to jump on them," said Dimo Dimov, a professor of innovation and entrepreneurship at the University of Bath's School of Management who has advised technology startups.
The CAR T process -- for chimeric antigen receptor therapy -- removes T-cells, engineers them to target cancer cells, and re-injects them into patients. The technology has had remarkable successes, with cancer disappearing in 90 percent of leukemia patients in one study. Side effects, including a potentially fatal immune reaction, remain a worry.
The hot market for biotechnology firms of all stripes has driven up valuations for CAR T companies as investors bet on more takeovers.
More than $40 billion has been spent or committed on biotechnology purchases so far in 2015. The biggest premium -- more than double -- came in Alexion Pharmaceuticals Inc.'s $8.4 billion agreement to buy Synageva BioPharma Corp., which makes a treatment for a rare blood disorder.
High Fliers
Juno, based in Seattle, has more than doubled since its December IPO, giving it a market value of about $4.6 billion. Bluebird has risen more than 10-fold since the Cambridge, Massachusetts-based company went public in 2013, and is now valued at about $5.7 billion. It has slipped a bit since June 3, when Celgene Corp. narrowed a pact on CAR T exploration.
"While valuations are not cheap, if the products were to work, the upside could be tremendous," Darren Campili, head of health-care investment banking for EMEA at Deutsche Bank AG in London, said in a phone interview. "The real question is whether a company has the scientific conviction that a product can succeed in the market."
Standing By
CAR T therapy is complicated and expensive, and hasn't been proven to work in solid tumors, such as lung, breast and prostate cancers. Success has come in small trials with a handful of patients, with each treatment crafted individually. Large drugmakers want to know whether the process can be standardized and deployed in thousands of patients before investing, said Fabian Wenner, a Zurich-based analyst at Kepler Cheuvreux.
"Everyone is standing on the sideline, to see if there are advances in scalability," Wenner said. "Before that is visible, everyone is hesitant to invest much more because you could lose billions."
So far, most drugmakers have preferred to partner with the CAR T biotechs, rather than purchase them. Juno is collaborating with AstraZeneca Plc, Kite is working with Amgen Inc., and Adaptimmune Ltd. has GlaxoSmithKline Plc on its side. Pfizer Inc. owns about 8 percent of Cellectis.
"We're very happy with the partnership," David Redfern, Glaxo's chief strategy officer, said in an interview. "I can't comment whether it will be bought or not," though "that area is all hot."
Big pharma has shown a willingness to pay high prices for drugs with great potential, said Charles Butler, an analyst at Guggenheim Securities LLC in New York. He pointed to AbbVie Inc.'s $21 billion purchase of Pharmacyclics Inc., which has a medicine approved for three cancers and is in testing for seven more, according to its website.
Science Questioned
With CAR T, acquirers may wait, because so much of the science hasn't been mastered, Butler said.
While most companies seek to infuse patients with their own altered T cells, Cellectis -- the French company working with Pfizer -- is trying to mass produce treatments.
Cellectis wants to bring its CAR T therapy to the market and doesn't anticipate a sale, Chairman and CEO Andre Choulika said in an interview on June 22.
"We're planning to take the products as far as possible, from a clinical stage company to a commercial company," he said. "This is our objective."
On Wednesday, Cellectis shares fell 1.5 percent to 31.82 euros at 1:39 p.m. in Paris.
Novartis Push
The first approved use of CAR T may come from Novartis AG, which is responsible for the success in leukemia and hopes to submit its drug to regulators next year. Novartis is also using CAR T to attack solid tumors in an early-stage trial that will help signal how effective the technology may be in a wider range of cancers.
Novartis is unusual in building its own CAR T franchise, in partnership with the University of Pennsylvania, rather than collaborating with a biotech startup.
It's "virtually impossible" for the fledgling biotechs to develop CAR T independently, Kepler's Wenner said. "None of these companies can handle the infrastructure" required for trials with thousands of patients, he said.
While some CAR T companies won't survive, those with the best results may hold out for high prices, Wenner said. "If they wait and show more data, then they can be more valuable," he said.