Big Days Dying Off in Stocks With No 2% Move Since December
Days of frantic buying or selling have been absent from the U.S. stock market this year.
The Standard & Poor's 500 Index hasn't posted a gain or loss of 2 percent or more for 126 days, the longest streak since one ending in February 2007, according to data compiled by Bloomberg and Deutsche Bank AG. The last time the gauge went without a 2 percent move in the first half of the year was in 2005.
Stasis is gripping U.S. equities as investors mark time awaiting the Federal Reserve's first interest rate increase in nine years. After tripling between March 2009 and the end of last year, the S&P 500 is up just 3.1 percent since then en route to the worst first half since 2010.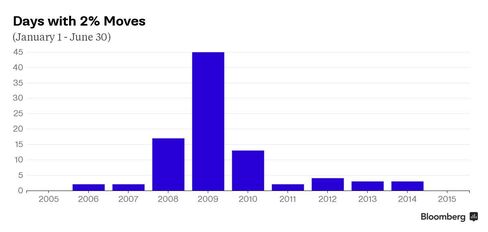 "We've had a lot of stuff happen this year, but it hasn't caused a stampede in or out of markets," said Walter "Bucky" Hellwig, who helps manage $17 billion at BB&T Wealth Management in Birmingham, Alabama. "It doesn't look like there's a lot of nervous money out there."
The S&P 500 rose 0.6 percent on Monday, climbing with global equities amid optimism a deal between Greece and its creditors will soon be reached.
Quiet Months
The equity index added less than 0.1 percent to 2,124.2 at 4 p.m. in New York.
In 2014, the S&P 500 swung by at least 2 percent or more on six days. The year before that, it had four daily moves greater than 2 percent.
The last time U.S. stocks closed up or down more than 2 percent was on Dec. 18, when the S&P 500 climbed 2.4 percent. That week, Fed Chair Janet Yellen said the central bank is likely to hold rates near zero at least through the first quarter, sparking the biggest three-day surge in global equities in two and a half years.
Traders waiting for big equity swings may be out of luck until September, with the Fed likely not raising rates until then, according to Deutsche Bank derivatives strategists.
Low volatility "in this catalyst-heavy June could be followed by more low realized volatility in the catalyst-light July and August if the Greece situation passes without contagion," strategists led by Rocky Fishman wrote in a June 18 note.
Before it's here, it's on the Bloomberg Terminal.
LEARN MORE