Bank of Russia Says 'Fear' of Fed Surprise Keeps Markets on Edge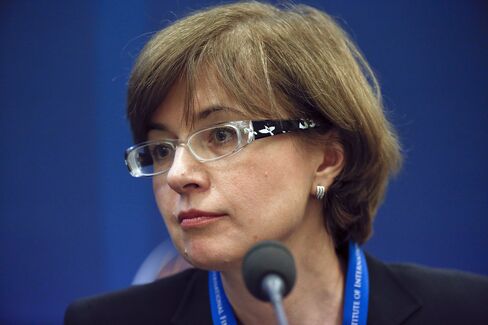 The Russian central bank said a "fear of some surprise" by the Federal Reserve is leading to jitters about the first U.S. interest-rate increase in almost a decade.
"The reaction by markets should theoretically be rather calm," Bank of Russia First Deputy Governor Ksenia Yudaeva told reporters in Moscow on Tuesday during a presentation of the regulator's Financial Stability Report. "But there is some probability still that, for whatever reasons, the market will start to get nervous and be quite volatile."
Stoking the anxiety are memories of the "huge shock" delivered in 2013, when then-Chairman Ben S. Bernanke suggested that the Fed could start tapering a bond-buying program intended to stimulate the economy, according to Yudaeva, who focuses on economic forecasting at the Bank of Russia. Compared with the so-called taper tantrum, when investors dumped emerging-market assets and Treasury yields jumped, the market is now more aware that the U.S. central bank will "sooner or later" wind down its stimulus, she said.
The Fed signaled last week that a pickup in the economy is keeping it on track to raise interest rates this year, though subsequent increases are likely to be more gradual than anticipated earlier. New forecasts issued by the the Federal Open Market Committee implied two quarter-point rate moves this year and a shallower pace of increases in 2016.
Bank of Russia Governor Elvira Nabiullina on June 8 mentioned a possible tightening of U.S. monetary policy as one of the biggest threats to her country's inflation outlook. A week later the central bank in Moscow cut its key rate for the fourth time this year and warned that inflation risks will hinder further easing.
'High Probability'
There's a "high probability" that the Fed will raise rates by year-end, Yudaeva said. The likeliest scenario is that liftoff will be "weathered calmly, because in the end, it's the best-publicized increase in U.S. interest rates in history," she said.
The risk for emerging markets is that the policy turn in the U.S. will shift capital flows and depress asset values in developing nations.
Although the Fed's looming decision has been well telegraphed, the Bank of Russia said in its Financial Stability Report that it couldn't rule out "moderately negative consequences for countries with developing markets," including currency depreciation, higher bond yields and capital outflows.
Impact Muted?
Even so, higher rates on foreign money markets after the Fed's move "should have no considerable negative impact on interest margins of Russian banks because most of the foreign-currency loans were extended by them at floating rates," policy makers said. "Accommodative measures in the euro area, where signs of an economic recovery have begun to emerge, can to a certain extent smooth the negative consequences of tighter Fed policy for emerging markets."
Russia, which endured record capital outflows of $154.1 billion last year amid a ruble crisis, has seen its financial and currency markets regain their footing this year as tensions eased over Ukraine and oil prices stabilized. The ruble is the world's best performer globally with a 12 percent gain against the dollar in 2015.
The central bank estimates first-quarter net outflows at $32.6 billion. Outflows eased to an estimated $6 billion in May from $13 billion in April, probably as a result of a stronger ruble and smaller repayments of external debt, Andrey Klepach, chief economist at Russian state development lender Vnesheconombank and a former deputy economy minister, said in a report.
"Unfortunately, both of those factors are temporary and capital outflow may accelerate again in the second half," Klepach said.
Before it's here, it's on the Bloomberg Terminal.
LEARN MORE