You Could Fit America's Greek Stock Holdings in One U.S. Midcap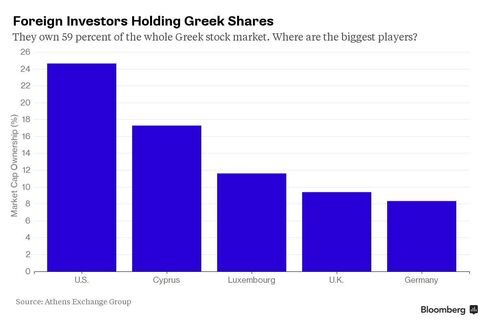 While Americans are the biggest foreign owners of Greek stocks, the holdings don't exactly represent a critical exposure.
According to data from Athens Exchange Group, overseas investors hold 59 percent of the Greek stock market, and of that U.S. traders have about 25 percent. That comes out to $5.7 billion -- about the size of doughnut maker Dunkin' Brands Group Inc., the 110th weighting in the S&P Midcap 400 Index.
U.S. investors kept sending money to Greek stocks even as the market tanked. An exchange-traded fund tracking the shares has had inflows every week this year and received $9.5 million last week. Its market cap reached a record this month.
"U.S. investors have been programmed for years that they will get bailed out -- from the Greenspan put to quantitative easing to General Motors,"said Kevin Kelly, chief investment officer at Recon Capital Partners in New York. "So they are more inclined to take risks in Greece."
A 17 percent drop in the benchmark ASE Index this year through the end of last week has brought the market value of Greek shares to $36 billion. That's about the size of Yahoo! Inc. alone, or Carnival Corp., the operator of ships that take Americans to Athens.
New Plan
The ASE jumped 9 percent on optimism a breakthrough is nearing after Greek Prime Minister Alexis Tsipras submitted a new plan of reforms. European finance ministers are meeting later in the day.
The ownership of U.S. investors has risen from 19 percent of the total market value of Greek stocks that foreign investors had when the ASE reached a high in 2009, before the first debt bailout. The gauge has dropped 76 percent since then and is the world's worst-performing index this year. Cypriots are the second-largest foreign investors. The data excludes what the Hellenic Financial Stability Fund owns.
While U.S. investors trade Greek shares, the market is relatively illiquid. Carnival has about four times more trades in one day than the biggest ASE stock did this whole month. MSCI Inc. said on Friday it's monitoring the Greek developments and may reclassify its index that tracks the nation's equities.
Still, the ASE ended last week with a two-day gain for the first time since May. The Global X FTSE Greece 20 ETF has received $241 million in 2015, heading for its best year on record.
"If Greece were to exit the euro zone that would be more bad news," said Andreas Nigg, head of equity and commodity strategy at Vontobel Asset Management in Zurich. "But the main scenario is that they will get some last-minute solution, probably kicking the can down the road one more time."
Before it's here, it's on the Bloomberg Terminal.
LEARN MORE