Weekend of Fear in Greece as Banks, People Live Day To Day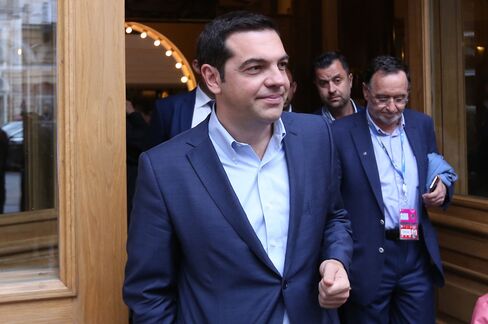 Dorothea Lambros stood outside an HSBC branch in central Athens on Friday afternoon, an envelope stuffed with cash in one hand and a 38,000 euro ($43,000) cashier's check in the other.
She was a few minutes too late to make her deposit at the London-based bank. She was too scared to take her life-savings back to her Greek bank. She worried it wouldn't survive the weekend.
"I don't know what happens on Monday," said Lambros, a 58-year-old government employee.
Nobody does. Every shifting deadline, every last-gasp effort has built up to this: a nation that went to sleep on Friday not knowing what Monday will bring. A deal, or more brinkmanship. Shuttered banks and empty cash machines, or a few more days of euros in their pockets and drachmas in their past - - and maybe their future.
On a street corner, a performance artist burned what he said were his last euros. Nearby, an Afghan beggar joked about how he should have gone to Sweden instead. A mother grabbed her toddler's hand as a dozen policemen motorcycled past, heading to a rally outside Parliament. And in his neighborhood restaurant Panagis Vourloumis, a 78 year-old ex-CEO, current investment banker and survivor of coups, dictators and communists, leaned forward and laid his worries on the table.
"We thought we had escaped the past, that we were a normal country now," he said. "But instead, we are living day-to-day."
"This, today now, is the worst I have ever seen," he said.
Deposit Withdrawals
For Greeks, the fear is that Monday will be deja vu, a return to a past not that distant. Before the euro replaced the drachma in 2002, the Greeks were already a European bête noire, their currency mostly trapped inside their nation, where cash was king and checks a novelty.
Since December, Greeks have been preparing for a weekend such as this, pulling more than 30 billion euros out of banks. Week after week, the Bank of Greece borrowed banknotes from the rest of the continent to replenish this hoarding of the one asset Greeks still trust -- cold, hard cash. Its liabilities to the rest of the euro area for the excess physical cash it has to put into circulation quadrupled between December and April, the last month for which there's available data.
Without access to capital markets, Greek lenders have to rely on almost 86 billion euros of Emergency Liquidity Assistance to stay afloat, subject to weekly boosts by the European Central Bank. This time, it didn't last a week. On Friday, the ceiling of the so-called ELA was raised by 1.8 billion, just a couple of days after a 1.1 billion injection. On Monday, the banks will be back, asking for more.
New Proposals
Everything comes together on Monday. Greek Prime Minister Alexis Tsipras, back from a visit with Vladimir Putin in St. Petersburg, will spend his weekend coming up with a proposal to take to a Monday showdown with euro-area leaders.
Greece's negotiating team met on Saturday to discuss the bailout talks and the country's cabinet will gather in the prime minister's residence on Sunday morning for talks.
A deal on Monday is key. The bailout agreement that's kept Greece from defaulting expires June 30. That's the day Greece owes about 1.5 billion euros to the International Monetary Fund.
In an interview published Saturday in Brussels-based l'Echo newspaper, Greek Finance Minister Yanis Varoufakis warned that the ruling Syriza party could be replaced by neo-Nazis if Greece ends up defaulting and leaving the euro.
Turbulent History
Without at least an understanding among the political chiefs, Greek banks will reach the limits of their available collateral for more ECB aid. The country then may have to impose capital controls to stem the withdrawals, said David Mackie, an analyst at JPMorgan Chase Bank in London.
"How did we end up like this? How did we become beggars? Defaulters? Everyone says we owe money," said Metropolitan Anthimos, bishop of Thessaloniki, Greece's second biggest city, in his Sunday sermon broadcast live on state TV. "If there's no progress tomorrow, bank shutters will remain closed on Tuesday," he told his flock.
This is not how it was supposed to end. So sure were Greeks of the permanence of the euro that when they minted their own 1 euro coin, they paid homage to a 5th century drachma, among the world's oldest currencies.
Before the European project, Greece had spent decades in turmoil. Since the Nazi occupation during World War II -- still an irritant during 21st century bailout talks -- it has seen a civil war, a military junta, a tussle between Communists and anti-communists and in the 1980's, an inflation rate over 20 percent.
A member of NATO since 1952, the 11-million strong nation joined a precursor to what became the European Union in 1981, allowing it, finally, full access to international debt markets.
Those very markets, coupled with an embrace of Europe, kick-started two decades of increased public spending on pensions and government jobs, and private investment in shipping and infrastructure.
Tough Monday
"There was a general sense of euphoria -- you could get a job with the government, real estate prices kept going up," said Vourloumis, who has run banks and telecommunications companies and battled unions along the way. "And then, with the European debt crisis, the whole thing was revealed -- our economy was built on protectionism, on borrowed money."
As 2001 drew to a close in Athens and fireworks lit up the skyline, the drachma was dead, and euros took over, the final step in Greece's integration into Europe.
This weekend, Greeks face the possibility of being the first to leave the euro behind.
"Monday will be difficult," said Lambros, the worried woman with the bundles of cash in Athens. She planned to spend the weekend watching television news and worrying about the future. If the country left the euro, she asked, "What am I supposed to buy food with?"
(An earlier version of this story corrected the number of years since Greece started using the euro.)
Before it's here, it's on the Bloomberg Terminal.
LEARN MORE