Yuan's Peg-Like Stability Makes China Hottest Asian Carry Trade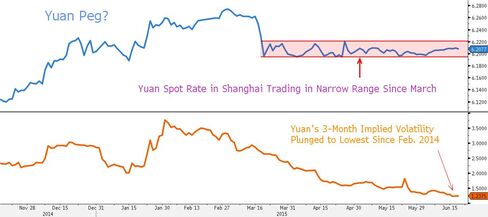 China's central bank has kept the yuan around 6.2 to the dollar for the past three months, helping make it Asia's hottest carry trade.
The currency hasn't deviated more than 0.4 percent either side of that level since March 19, giving investors the confidence to borrow in lower-yielding currencies and to take leveraged bets in a market where the benchmark sovereign yield is 3.57 percent. The yuan has been the most attractive destination for such trades amid an emerging-market slump, according to the Sharpe Ratio, which measures returns adjusted for price swings. Offshore Chinese bonds are rallying.
BlackRock Inc. has been adding yuan debt and says exchange-rate stability in the next 18 months will make it an attractive carry trade, according to Neeraj Seth, Singapore-based head of Asian credit. China is keeping the yuan steady to persuade the International Monetary Fund to grant it reserve-currency status and discourage capital outflows.
"China's determination in getting the yuan into the special drawing rights system has altered the bearish view on the yuan," said Ben Yuen, Hong Kong-based head of fixed income at BOCHK Asset Management Ltd., which oversees about $8 billion of assets. "We expect the yuan to remain stable and we find Dim Sum corporate bonds attractive."
The following charts show the yuan trading in a range, its Sharpe Ratio and the rising return on Dim Sum bonds.
CHART 1. The yuan in Shanghai has barely moved against the dollar in the past three months. Its three-month implied volatility slumped to 1.19 percent this week, the lowest level since February 2014.
The range has been almost like a peg, with China seeking to obtain reserve currency status, tackle dollar borrowings and combat capital flows, said Michael Every, head of financial market research at Rabobank International's Hong Kong branch.
The yuan has "good carry and low volatility relative to the U.S. dollar and these bonds offer nice diversification potential," said Seth at BlackRock, which oversees $4.77 trillion globally.
CHART 2. The Sharpe ratio for the offshore yuan in Hong Kong, which is free of the mainland's capital controls, was 2.5 for the past three months, compared with 2.4 for Singapore's dollar and 1 for Hong Kong's currency. The onshore yuan's ratio was 1.22.
"The yuan is a popular carry trade because it has been more stable compared with other Asian currencies," said Nathan Chow, a Hong Kong-based economist at DBS Group Holdings Ltd. "China doesn't want to see the yuan decline sharply as it internationalizes the currency and re-balances the economy."
CHART 3. Yuan bonds sold in Hong Kong, which are heading for a 13th straight week of gains, have returned 3.3 percent since March 20, according to an index compiled by Deutsche Bank AG.
Dim Sum sales have rebounded in the second quarter, with Caterpillar Inc. among issuers of 92.3 billion yuan, compared with 88 billion yuan in the January-March period.
Offshore borrowing costs have dipped after China cut interest rates three times since November. It also opened a market for short-term loans to foreign banks this month.
"We are seeing a revival of demand for Dim Sum bonds and that's why you are seeing more issuances," BOCHK Asset's Yuen said. "The stable yuan has boosted Dim Sum bonds. More importantly, it's obvious that China is still on the path for more monetary easing, which is positive for bonds."
— With assistance by Fion Li, and Tian Chen
Before it's here, it's on the Bloomberg Terminal.
LEARN MORE