Three Hints Yellen Dropped That the Fed Might Not Raise Rates in September
Janet Yellen's press conference showed so-so confidence
Federal Reserve Chair Janet Yellen may be a "Decemberist" — investors' nickname for those who want to wait to raise the benchmark lending rate until the end of the year.
The tally of Fed officials who want to hike this year rather than next year is still 15-2. Seven central bankers forecast one hike or none at all in 2015, new projections released Wednesday showed, up from three in March.
There are four remaining Federal Open Market Committee meetings this year. Two of them — one in September and the other in December — have press conferences, which is why economists are highlighting those dates as probable for a rate increase.
A close read of what Yellen emphasized yesterday suggests it would take sustained momentum to get the economy past the hurdles she still sees in its path. Let's look at what she said:
1. Consumer spending outlook unclear
There's still a question about consumer spending. In her opening statement, Yellen said the fundamentals underlying household purchases "appear favorable," but in the question-and-answer period, she expressed some doubts. Consumer spending is growing "at a moderate pace." She said "the jury is out" on why Americans remained tight-fisted with savings as gas prices fell, and as they stay tame.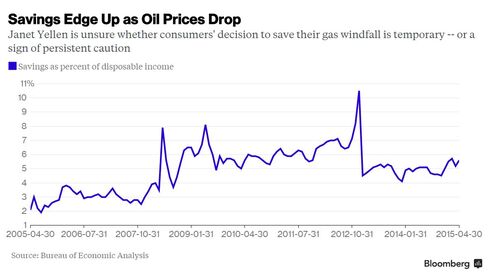 "Given the drags on energy and trade, you have to be confident on where the consumer is to believe policy rate hikes this year are appropriate,'' said Michael Gapen, chief U.S. economist at Barclays Capital Inc. "To say 'the jury is still out' could be interpreted as saying she has little confidence in her outlook for growth, labor market improvement, and the path of short-term interest rates."
What's more, Gapen said, "this riddle about what's changed with consumers may not be resolved as soon as September if the committee insists on decisive evidence of momentum, so her comments seem to weigh against a rate hike in about three months."
2. Job market has room to heal
The share of workers feeling confident enough to quit their jobs has moved up since last year, the labor-force participation rate is showing early signs of stabilizing after a protracted decline, and the U.S. is gaining jobs at an above-trend pace. Even so, after noting that "labor market conditions have improved somewhat further," Yellen emphasized areas where the jobs picture could look better — and cited very gradually improving measures.
"Some cyclical weakness in the labor market remains," she said, highlighting the depressed participation rate, subdued wage growth and an elevated share of people working part time for economic reasons. "Although progress clearly has been achieved, room for further improvement remains."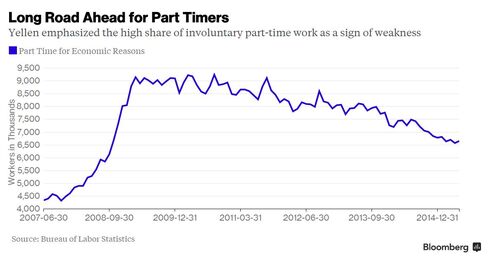 3. It isn't ironclad
"I can't give an ironclad promise" that policy makers will raise rates this year, Yellen said in response to a reporter's question following her opening remarks. "If economic conditions unfold in the way that most of my colleagues and I anticipate, we see it as appropriate to raise rates. And, as you can see, the largest number of participants anticipate that those conditions should be in place later this year."
The message here, said Michael Hanson, senior U.S. economist at Bank of America Corp. in New York, is that the probability of an interest-rate hike this year isn't 100 percent. The Fed's projecting gross domestic product will finish the year 1.9 percent higher, short of the 2.1 percent median estimate in a Bloomberg News survey conducted June 5-10. So, "the threshold is pretty darn low," Hanson said, yet her comments suggest that negative surprises could delay a tightening.
Before it's here, it's on the Bloomberg Terminal.
LEARN MORE