SoftBank to Sell Pepper Robot to Consumers From June 20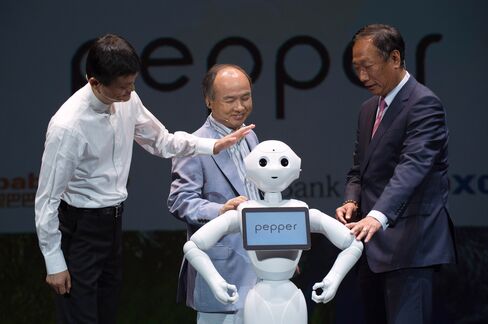 SoftBank Corp. will start sales of its Pepper robot to consumers Saturday in a bid to spur adoption.
The humanoid robot will sell for 198,000 yen ($1,600), SoftBank said in Tokyo on Thursday. The company will also offer a service plan for 14,800 yen a month, which will give users access to cloud-based voice-recognition and an app store.
Featuring more than 20 motors and highly articulated arms, Pepper is capable of human-like body language. Its shoulders heave when in standby mode, imitating sleep. But it's not designed for menial tasks. Instead, SoftBank founder Masayoshi Son is betting the robot's friendly physical appearance will spur adoption of cloud services and attract app developers.
"Of course there is a need for mechanical robots that are strong and can perform physical work," Son said at a briefing Thursday. "We think there is value in a robot that can understand human feelings."
Since the robot's unveiling a year ago, SoftBank has made improvements to what Son calls Pepper's emotion engine. The robot maintains a map of emotional responses ranging from excitement to fear and uses external inputs such as lighting levels and interaction with people to adjust its state.
Pepper was developed by SoftBank subsidiary Aldebaran Robotics SA. The 1.2 meter (4 foot) humanoid dances, makes jokes and estimates human emotions based on expressions. The robot, unveiled last June, was initially targeted at families and the elderly before getting attention for business use.
Renting Pepper
The robot will be available for purchase by businesses from autumn with business-focused apps for Pepper to be announced next month, Son said on Thursday. Pepper can also be hired part-time for 1,500 yen an hour, the billionaire SoftBank chairman said.
Mizuho Financial Group Inc. said in March it will use the robot in some stores from July and may roll it out to all branches across Japan.
The robot went on sale to developers, in a limited 300-units edition, from February. SoftBank said it has now built 1,000 units for sale from this month.
Pepper will be promoted worldwide by a separate venture SoftBank Robotics Holdings, the Tokyo-based company said. Alibaba Group Holding Ltd. will own 20 percent in the venture, with billionaire Terry Gou's Foxconn Technology Group holding another 20 percent and SoftBank controlling a 60 percent stake.
SoftBank will sell Pepper below manufacturing cost and plans to rely on an app store modeled on Apple Inc.'s to generate profit, Son said. Pepper will come with more than 100 applications available for download at introduction, he said.
(A previous version of this story was corrected to show Pepper's rental price is 1,500 yen per hour.)
Before it's here, it's on the Bloomberg Terminal.
LEARN MORE