Skeptic Aberdeen Turns Bullish on India as Valuations Shrink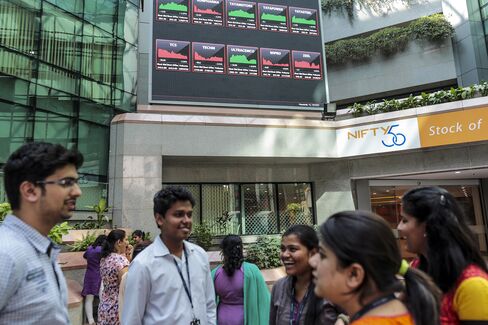 Eight months after calling India's stock rally overdone, Aberdeen Asset Management Plc is finding value in Asia's third-worst performer this year. The reason: China.
The U.K.'s second-largest publicly traded money manager by market value says the Asian nation's shares are attractive now after funds pulled money out to chase better returns in China. The S&P BSE Sensex index is now valued at a 33 percent premium to the MSCI BRIC Index, near the least in almost six years. The Shanghai Composite Index has more than doubled in 12 months.
"We've been putting money into a few India accounts," Hugh Young, Singapore-based Asia managing director at Aberdeen, which oversees about $537 billion, said in a phone interview. Declining valuations have made him "look at India more favorably than before," he said.
Overseas investors have been dumping Indian shares at the fastest pace in 22 months as the euphoria over Prime Minister Narendra Modi's development agenda fades, Modi is struggling to get legislation through the upper house of parliament, which is controlled by his opponents. In comparison, China's benchmark index surged to a seven-year high this month, funded by monetary stimulus and record inflows from amateur punters.
Foreigners have sold a net $781 million of shares in June, on pace for the worst month since August 2013, while overseas funds investing in China added more than $4 billion in the week through May 27, more than double the previous record set in 2008, according to data provider EPFR Global.
Still, the International Monetary Fund predicts India's economic growth will outpace China's in the fiscal year ending March 31. India's GDP grew 7.5 percent in the three months through March, beating China's 7 percent expansion.
Growth Prospects
Analyst estimates compiled by Bloomberg show profits at companies on the Sensex will climb 35 percent in the next 12 months, versus a 27 percent gain for the Shanghai Composite,
"India's growth prospects are still there as much today as they were 12 months ago, but China has done better because of fund flows," said Young. "If everyone does China, then India becomes amazingly attractive."
The Aberdeen Emerging Markets fund had 13.5 percent of its $9.5 billion assets in Indian shares as of April 30, compared with 11.3 percent in Brazil and 7.3 percent in Mexico, data compiled by Bloomberg show.
Last August, Young said the bull market in Indian stocks had exceeded the outlook for corporate earnings amid euphoria over Modi's landslide election victory in May 2014. The Sensex jumped 30 percent in 2014, the most in five years, as global funds bought $16 billion of domestic shares. Net incomes at the companies on the gauge declined for a second straight quarter in March.
Modi Euphoria
"When Modi came, everyone was universally enthusiastic, but one year on, people have understood the reality that it is not easy for one man to change the world," Young said.
Aberdeen said last month that it cut its India holdings by 2 percent to invest in other Asian nations, including China.
Indian stocks lag behind equity indexes in the other BRIC countries of Brazil and Russia, which have risen from 6 percent to 19 percent this year. The Sensex is valued at 15 times projected 12-month earnings, down from April's peak of 16.9 times. The gauge's valuation last week fell to the lowest in a year, data compiled by Bloomberg show.
While the underperformance has made Indian stocks cheaper, a recovery in corporate profitability would prompt Aberdeen to boost its holdings of local assets, Young said. The Sensex headed for a sixth day of gains Friday, set for the longest winning streak in four months.
For now, the money manager has "a lot of money on India, and that shouldn't change materially," he said.
Before it's here, it's on the Bloomberg Terminal.
LEARN MORE