Hong Kong Set for More Fights After China Vote Plan Defeated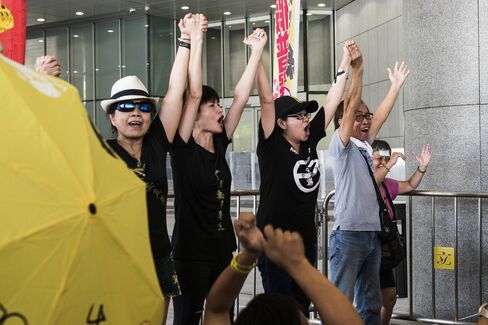 Hong Kong faces a prolonged political impasse after pro-democratic lawmakers rejected a China-backed plan for its political future and scuttled the Asian financial hub's first leadership election.
Twenty-eight of 70 lawmakers voted against the bill, denying Chief Executive Leung Chun-ying the two-thirds majority needed to pass legislation setting up the citywide election. The result was cheered by democracy advocates, who argued the plan would've let China's Communist Party screen out candidates before they reached a popular vote.
The defeat provides a consolation prize to the Occupy Central protesters who seized city streets for almost three months last year in a failed effort to pressure President Xi Jinping to drop the candidate vetting. While the result is an embarrassment for China, it also means the next chief executive will be selected by the same panel of elites that has consistently chosen pro-Beijing leaders since the U.K. returned the former colony in 1997.
Failure to resolve the debate will let fester a major source of tension in last year's protests: the belief that China is encroaching on the "high degree of autonomy" promised to Hong Kong and altering its economic, legal and political systems.
"It will mean more governance problems because the public is seeing more Beijing interference in Hong Kong," said Michael Davis, a constitutional law professor at the University of Hong Kong. "The Occupy movement is not just about democracy, it is about autonomy and the rule of law."
Nominating Committee
The defeated proposal would've allowed 5 million people to vote for a chief executive from candidates selected by a panel of 1,200 tycoons, lawmakers and industry representatives. Opponents argued the committee would be stacked with Beijing loyalists and people who benefit from the city's yawning wealth gap and soaring property prices.
Democracy advocates complain about China's creeping influence over the media, schools and courts since the handover. Surging wealth on the mainland has flowed across the border, driving up the cost of everything from housing to consumer goods, while wages stagnate.
About half of Hong Kong workers earn less than HK$14,000 ($1,800) a month, and 7.7 percent less than HK$5,000, according to government figures. They live in the most expensive housing market out of 378 markets tracked by the consultant Demographia.
Hong Kong is home to the highest concentration of multimillionaires of any city on earth. Four of the richest men in Asia live in the city -- Li Ka-shing, Lee Shau-kee, Cheng Yu-tung and Lui Che-woo -- who have a combined net worth of $80.2 billion, according to the Bloomberg Billionaires Index.
Livelihood Issues
Even before the vote, Leung had signaled a desire to get past the political debates that have consumed the city.
"It is time to move on," he said Thursday, after the proposal failed. "For the next two years, the government will focus the efforts on the various economic development and livelihood issues."
Advocates for political change argue that only a democratically elected chief executive would have the popular mandate to tackle the city's thorniest issues. Pro-democracy lawmakers called on the government to follow through on past pledges to set up a one-person, one-vote election system.
"C.Y. may think we'll put democratic reforms to one side and we'll move on with economics and livelihood issues, but if you have no trust and no cooperation with the legislature -- a fractious legislature confronting you at every turn -- then you are not going to get things done," said Anson Chan, who was Hong Kong's No. 2 official before the handover and now heads a pro-democracy group. She recommended trying to make the current nominating committee more broadly representative.
Divided Society
Holden Chow, vice chairman of pro-establishment Democratic Alliance for the Betterment and Progress of Hong Kong, said that if pro-democracy lawmakers continue their "antagonizing attitude," it would harm the city. "We should put the political issues aside," he said.
Investors have been unperturbed by the civic turmoil. Since China outlined the voting guidelines that triggered the protests Aug. 31, the benchmark Hang Seng Index has climbed 8 percent, outstripping the MSCI Asia Pacific Index, which has fallen 1 percent in the period.
For more, read this next:
"The medium-term threat isn't that Shanghai will suddenly be able to do what Hong Kong is today far better at," said Paul Serfaty, a director of Asian Capital Partners Group, an investment bank that specializes in mergers and acquisitions.
"It's that the vital spirits of Hong Kong people -- driven first by their refugee status and later by their hunger for success -- will be suppressed as young people grow to believe that the cards are stacked against them," he said.
Before it's here, it's on the Bloomberg Terminal.
LEARN MORE