Suspect Arrested in Charleston Shootings That Killed Nine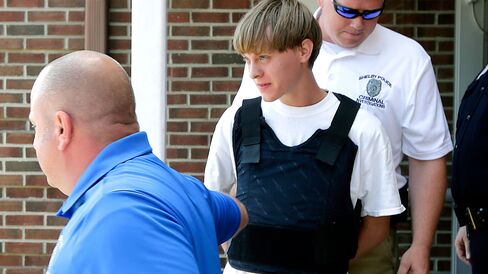 Investigators arrested a 21-year-old white man said to have a history of racial aggression in the fatal shooting of nine people in a historic black church in Charleston, South Carolina.
Dylann Storm Roof of Lexington was apprehended in Shelby, North Carolina, about 245 miles (390 kilometers) northwest of the scene of the killings, Police Chief Greg Mullen said at a Thursday news conference. Federal officials are probing the shooting at Emanuel AME Church as a hate crime.
The shooter attended a Wednesday night meeting in the church for almost an hour before he killed nine people and injured at least one other. Mullen said three men and six women died, and three people survived.
Governor Nikki Haley, holding back tears, said the state would grieve as one.
"We woke up today and the heart and soul of South Carolina is broken," the 43-year-old Republican said at a news conference in Charleston. "Parents have to explain to their children how they can go to church and feel safe."
The massacre followed mass slayings in 2012 in Aurora, Colorado, where 12 movie-goers died and in Newtown, Connecticut, where 26 pupils and teachers were shot to death. It also comes after racial unrest linked to killings by police in U.S. cities including Ferguson, Missouri; Baltimore; and nearby North Charleston.
Unsafe Sanctuary
President Barack Obama said the killer violated a "sacred place" and that the mass shooting once again raised troubling questions about racial tension and easy access to firearms.
"There's something particularly heartbreaking about a death happening in a place in which we seek solace and we seek peace," Obama said Thursday at the White House.
The Charleston church's pastor, Clementa Pinckney, a South Carolina state senator, was among those killed, according to state Representative Wendell Gilliard, a Charleston Democrat.
A public Facebook profile, no longer accessible, showed a photo of Roof staring intently at the camera, devoid of expression, with his light-brown hair styled in a bowl cut. Standing in what looks to be a swampy forest, he wears a black jacket with two flag patches.
The top flag was used by apartheid-era South Africa and the bottom one by Rhodesia, now Zimbabwe. Both were the symbols of oppressive white minority regimes.
'Taking Over'
The Charleston shooting suspect gave one survivor a rationale for his attack, according to NBC News.
"You rape our women, you're taking over our country," he said, according to Sylvia Johnson, whose cousin survived the attack. "You have to go."
Roof "made a lot of racist jokes," classmate John Mullins told the Daily Beast.
The suspect had seemed "adrift" and had recently received a .45-caliber handgun for his birthday, according to Reuters, citing Carson Cowles, who said he was Roof's uncle.
"Nobody in my family had seen anything like this coming," Cowles, 56, told the news service.
Roof, 5-foot-9 and 120 pounds, had been arrested at least twice, according to police reports posted on the website of NPR. The first time was for narcotics possession in February, and the second for trespassing, in April. Both occurred at the Columbiana Centre shopping mall in Columbia, South Carolina.
Federal Probe
"That terrible human being that would go into a place of worship where people were praying and kill them is now in custody, where he will always remain," Mayor Joseph Riley Jr. said at the news conference.
Mullen said police received a call about the shooting at 9:05 p.m., and officers found eight people dead when they arrived. One person who was taken to the Medical University of South Carolina later died, he said.
U.S. Attorney General Loretta Lynch told reporters in Washington that investigators would examine every aspect of the case.
"We will now be looking at all the facts, all the motivations, all of the things that led this individual, if in fact he is the shooter, to commit this crime," she said. "We will determine which are the best ways to prosecute the case."
Before it's here, it's on the Bloomberg Terminal.
LEARN MORE