Washington to Bond Traders: We're Worried About Liquidity Too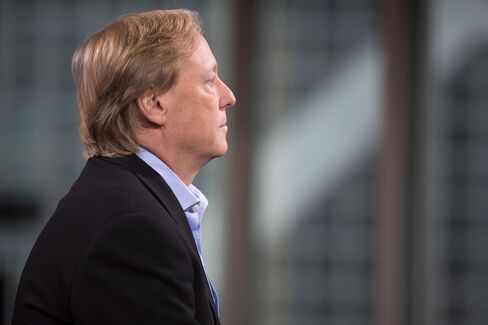 Wall Street bankers who've been warning that poor liquidity is endangering the $39 trillion U.S. bond market are gaining an audience with regulators.
The Financial Industry Regulatory Authority has begun meeting with some of the market's biggest players to discuss how they can make it easier to buy and sell bonds when sentiment sours. Liquidnet, which is planning the first dark pool for corporate bonds this year, gave a demonstration last week to U.S. Treasury Department officials who expressed concern with the structure of the bond market, said firm founder Seth Merrin.
Regulators are seeking to ensure that post-crisis rules and monetary policy aren't creating a toxic brew that'll explode amid a sudden exit by investors. Warnings have intensified as the Federal Reserve prepares to increase interest rates for the first time in almost a decade, the beginning of the end to an unprecedented era of stimulus that pushed $1.1 trillion of investor cash into the bond market, according to data from the Investment Company Institute.
"Around the table, people of good faith are making an honest effort to get to a sensible answer, which is to maximize safety for investors and promote the functioning of deep and liquid capital markets," said Steven Lear, a money manager at JPMorgan Chase & Co.'s asset-management unit, which oversees $400 billion of fixed-income assets globally.
Fed Study
The Fed is also preparing to weigh in on the matter. The central bank is analyzing the violent swings in U.S. Treasuries on Oct. 15, when a sudden surge in prices drove the biggest drop in yields for 10-year notes since 2009.
The big fear that's been spreading from Wall Street to the bond-fund giants of the West Coast is that investors will sell their holdings all at once into a deteriorating market with few firms available to quickly buy the debt. Concern has intensified as bond dealers, constrained by stricter capital rules that made it costlier to act as the markets' middlemen, pulled back from their activities.
Dealer inventories of corporate bonds have plunged more than 80 percent since 2007 to between $50 billion and $60 billion, according to Bloomberg Intelligence data. At the same time, the corporate-bond market has ballooned 50 percent to almost $8 trillion.
Fund Rules
The divergence underscores the concern that investors could struggle to maneuver in a sell-off as activity grinds to a halt.
Regulators are increasingly paying attention to funds that buy hard-to-sell assets, U.S. Securities and Exchange Commissioner Kara Stein said in a speech in Washington on Monday. The SEC is drafting a new set of rules for mutual funds to ensure they have plans in place to meet investor demands without stressing markets.
"All of these questions should be asked and debated now, and not during a time of financial market distress," Stein said in the speech.
Fed chair Janet Yellen warned at a conference in Washington last month of the potential for "very substantial moves in asset prices" should there be a run on funds that buy illiquid securities while promising investors immediate liquidity when they want their cash back.
Finra Meetings
Republican lawmakers are pressing regulators on whether post-crisis rules such as higher capital requirements and restrictions on risky assets have made it harder to trade bonds. Rep. Randy Neugebauer, a Texas Republican, has asked regulators and executives of BlackRock Inc., JPMorgan & Chase Co., and General Electric Co.'s finance arm to discuss the subject at a July 13 meeting.
U.S. Treasury Secretary Jacob J. Lew told lawmakers Wednesday that regulators intended for some types of "high-risk, highly leveraged investments" to become harder to trade. "There was a desire in financial reform for certain things that are high-risk, highly leveraged investments to be less liquid," Lew told the House Financial Services Committee. "I don't think that's necessarily a bad thing. That doesn't mean it's a good thing for there to be a loss of market liquidity."
Finra met with bond dealers, asset managers, trading venues and regulators Thursday to discuss liquidity concerns in the corporate-bond market, the brokerage industry watchdog said.
Block Trades
"Finra believes that it is critical to bring together regulators and market participants to candidly discuss current and emerging issues," George Smaragdis, a spokesman for the Washington-based group, said in an e-mailed statement.
Discussions included how well the market could "respond to a credit or liquidity event," he said. Another meeting has been scheduled for early next month.
The gatherings come after a group of asset managers including Pacific Investment Management Co., BlackRock Inc. and AllianceBernstein Holding LP wrote a letter to the SEC urging it to form an advisory committee to focus on liquidity in debt markets.
One measure they want regulators to consider is loosening requirements for disclosing large transactions to Finra's bond-price reporting system, known as Trace. Such block trades must be reported within 15 minutes, tipping off other traders who can submit low-ball offers knowing that a dealer may be needing to offload a large position.
Electronic Trading
"The reporting increases the bid-ask spread so it hurts liquidity," said William De Leon, global head of portfolio risk management at Newport Beach, California-based Pimco. "We are asking for a delay so that people can have time to manage their positions."
JPMorgan's Lear said the complications from block-trade reporting are just a "symptom" of the bigger problem. "So it's pretty far down on the list" of concerns, he said.
For more, read this QuickTake: The Fed's Countdown
Policy makers are also examining the role of electronic-trading systems to match up bond buyers and sellers even during times when big banks are unable to help.
"We've talked with just about every regulator," said Liquidnet's Merrin. "They're really looking to us to help educate them."
Before it's here, it's on the Bloomberg Terminal.
LEARN MORE