The Sudden Plunge in Venezuela Dollar Reserves Alarms Creditors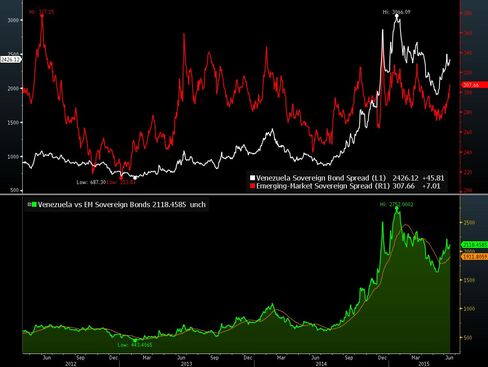 Bond investors in Venezuela are getting that sinking feeling again.
The country's notes have plummeted 13 percent in the past month as a collapse in the government's foreign reserves rekindles concern that Venezuela is running out of money.
In the past three months alone, the nation has burned through almost a quarter of its known cash hoard, leaving it at a 12-year low of $16.4 billion. And while Bank of America Corp. and Goldman Sachs Group Inc. say Venezuela may have more money squirreled away in off-budget funds to avoid a default in the short term, many bond investors aren't waiting to find out.
"It's pretty damn scary," Edwin Gutierrez, the head of emerging-market sovereign debt at Aberdeen Asset Management Plc, said from London. "The writing is increasingly on the wall for these guys. They can muddle through this year but the challenges for 2016 will be just as great."
Venezuela's reserves are dwindling after the price of oil, which accounts for 95 percent of the nation's export revenue, fell 44 percent in the past year. Traders now see a 44 percent chance the country will default in the next year, the highest in the world and up from 34 percent a month ago.
Facing an ever-worsening shortage of hard currency, President Nicolas Maduro has pulled an average of $65 million a day from central bank reserves since the end of March.
China Loan
Press officials at Venezuela's finance ministry and central bank didn't respond to messages seeking comment during normal office hours on Wednesday.
Francisco Rodriguez, an economist at Bank of America, said in a June 17 report that a $5 billion loan Venezuela received from China should show up in the country's reserves some time in the next two quarters, which would bolster the country's cash position. In April, the bank estimated Venezuela had $77 billion of assets available for sale or securitization at the end of the first quarter, down from $81 billion in 2014.
"Chinese financing is key in order to stop Venezuela depleting its assets at a rapid pace in the remainder of the year," Rodriguez said in the note.
Venezuela and its state-owned oil company Petroleos de Venezuela have about $6.4 billion of debt payments coming due before year-end.
To Goldman Sachs, Venezuela's bonds are so cheap that all the country needs to do is make a few more interest payments for investors to make a handsome profit.
Off-Budget
Venezuela's benchmark notes due in 2027 have fallen eight cents in the past month to 41 cents on the dollar, data compiled by Bloomberg show. The securities pay 9.25 percent of interest a year in two installments of 4.625 percent. The next is due in September.
"We are seeing the decline in central bank reserves, but there is an assumption that there is more we don't know about," Mauro Roca, a strategist at Goldman Sachs, said from New York.
Still, while Venezuela may have as much as $4 billion in off-budget funds, the country will use that up this year or by early 2016, according to Victor Fu, a strategist at Bank Hapoalim Ltd. in New York. He turned bearish on the nation's bonds in May as reserves sank.
The speed of the drop in reserves "implies there may be a serious cash crunch in Venezuela," Fu said by e-mail. "The tricky thing is that most of Venezuela's remaining reserves are in gold rather than cash. They probably have only a couple of billions in their foreign reserves."
Before it's here, it's on the Bloomberg Terminal.
LEARN MORE