Losing $25 Million Won't Decide Whether Spurs' Duncan Returns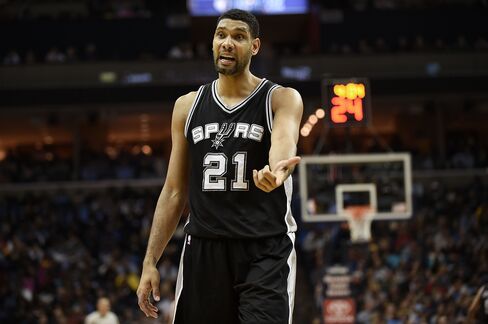 The promise of a multimillion-dollar contract won't be a factor in whether Tim Duncan returns for his 19th National Basketball Association season, even though the San Antonio Spurs' All-Star lost more than $20 million to what he says is a dishonest financial adviser.
"Luckily I had a long career and made good money," the 39-year-old Duncan, who has been paid about $220 million over his career, including about $10 million this past season, said in a telephone interview. "This is a big chunk, but it's not going to change my life in any way. It's not going to make any decisions for me."
In January, Duncan sued his former financial adviser, Charles Banks, accusing him of pushing him into investments despite conflicts of interest that ultimately caused substantial loss. Banks hid his own interest in investment opportunities recommended to the 15-time All-Star, according to the complaint.
The losses from 2005-2013 were discovered during a review of Duncan's finances as part of his divorce, the player said.
"I trusted someone to do a job that I hired them to do and they misused my trust and went astray and started using my money," Duncan said in the phone interview, noting that he's speaking out to dispel Banks's assertions that the losses stemmed from a misunderstanding or that he was impatient and wanted out of certain investments. "I want people to understand that the statements he made are absolutely incorrect, that he's just trying to make himself look good and save his own image when there's nothing there to save."
Banks's Response
Antroy Arreola, an attorney for Banks, e-mailed a response to Duncan's comments.
"It is our understanding that Mr. Banks did not talk to or make any offers to Mr. Duncan's attorneys the morning that Mr. Duncan filed his complaint against Mr. Banks," Arreola said in the statement. "In fact, Mr. Banks found the legal action surprising because Mr. Duncan has no claim against Mr. Banks.
''The note specifically discussed in Mr. Duncan's complaint is current, Mr. Duncan is receiving 12 percent interest on that note, and Mr. Duncan's investments as a whole have performed well. We are confident that when all the facts are heard, it will be clear that the claims presented lack foundation.''
Duncan also said Banks tried to dissuade him from filing the lawsuit, saying repeatedly that he would return the money. ''We gave him the opportunity to follow through,'' Duncan said. ''Nothing ever came of it. We had to move forward.''
Duncan said he won't look back and castigate himself for failing to better protect his money. The NBA, he said, does a ''great job'' of informing players of the potential pitfalls when it comes to their money.
'People Checking'
''I thought, for the most part, I was keeping an eye on things. You have to have people checking on people checking on people. I did that for a while. Obviously, I got to a point where the people I trusted were checking on themselves,'' said Duncan, a two-time Most Valuable Player who has won five championships with the Spurs. ''The bottom line is this: You can't be angry at yourself. I keep going back to this word, but I trusted someone. I was wrong about it. I got screwed over for it. I'm not mad at myself for that. That's a lesson learned. I'll never put myself in that situation again."
Financial Stakes
Duncan said he met Banks during his rookie year in 1998. At Banks's urging, the athlete invested several million dollars in hotels, beauty products, sports merchandising and wineries that the adviser owned or in which he had financial stakes, according to the lawsuit.
Banks, a private-equity investor, in January said Duncan is using the lawsuit as leverage to get out of limited partnership investments. He said in an interview at the time that he and Duncan are limited partners in several deals, and that he hadn't acted as the athlete's financial adviser since 2007.
Looking ahead, Duncan said he wouldn't seek out opportunities to educate younger athletes on how to handle their money.
"I'm not a speech guy. I'm not gonna go out and preach to people," said Duncan, whose off-court ventures include BlackJack Speed Shop, an auto customization business with two locations in Texas. "I'm not going to go on a circuit trying to warn people."
Even so, Duncan said he hoped his story would get "out there" so that younger athletes can learn about the cautionary tale of an athlete who never thought it would happen to him.
"I'm a loyal guy. I'm a man of my word, and I assumed other people would be that way," Duncan said. "That's just not the case in life."
Before it's here, it's on the Bloomberg Terminal.
LEARN MORE